Commentary
Daily Futures: A tale of two pitchers
Stephen Strasburg? Still elite. Andrew Cashner? Maybe the Cubbies' next closer.
Updated:
May 13, 2010, 12:02 PM ET
By
Kevin Goldstein
| Baseball Prospectus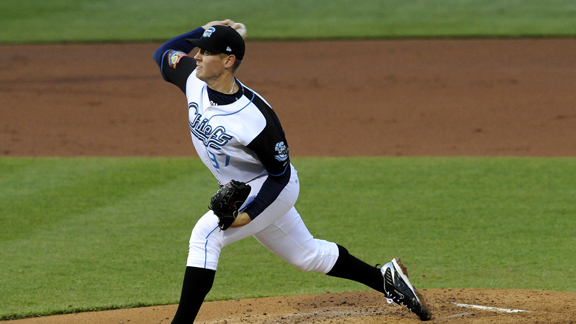 Getty ImagesLa capitale awaits, young sir.
And Now, We Wait Some More
Stephen Strasburg
, RHP,
Washington Nationals
(Triple-A Syracuse)
Wednesday's stats:
6 IP, 0 H, 0 R, 1 BB, 7 K
It's a waste of time to talk about how well Strasburg pitched, and it's a waste of time to act like him delivering six no-hit innings has any effect on his big league timetable, which remains on course for an early June debut. We can have fun with numbers, though -- and share that so far, opposing batters are 14-for-116 (.121) against Strasburg, with two doubles, eight walks and 40 strikeouts. My favorite split? Batters leading off an inning against the uber-prospect are 0-for-31. It's really all the fun we can have at this point. You know, other than watching him pitch.
Trayce Thompson, Andrew Cashner -- the futures of Chicago baseball? To keep reading, become an Insider.
Insider
KEITH LAW'S TOP 25 PROSPECTS

Law
The rankings are limited to players who still have rookie eligibility; that means they have yet to exceed 130 at-bats or 50 innings pitched in the majors and have not yet spent 45 days on the active roster of a major league club, excluding call-ups during the roster expansion period after Sept. 1.
Click on a player's name to go to his individual scouting report (from January, click above for updates):
| NO. | PLAYER |
| --- | --- |
| 1 | Stephen Strasburg, RHP, WAS |
| 2 | Carlos Santana, C, CLE |
| 3 | Buster Posey, C, SFO |
| 4 | Mike Stanton, OF, FLA |
| 5 | Desmond Jennings, OF, TAM |
| 6 | Martin Perez, LHP, TEX |
| 7 | Domonic Brown, RF, PHI |
| 8 | Dustin Ackley, CF, SEA |
| 9 | Jesus Montero, C, NYY |
| 10 | Aroldis Chapman, LHP, CIN |
| 11 | Jeremy Hellickson, RHP, TAM |
| 12 | Casey Kelly, RHP, BOS |
| 13 | Aaron Hicks, RHP, MIN |
| 14 | Mike Trout, OF, LAA |
| 15 | Brett Wallace, 1B, TOR |
| 16 | Logan Morrison, 1B, FLA |
| 17 | Zach Britton, LHP, BAL |
| 18 | Tyler Matzek, LHP, COL |
| 19 | Michael Taylor, OF, OAK |
| 20 | Kyle Gibson, RHP, MIN |
| 21 | Shelly Miller, RHP, STL |
| 22 | Josh Vitters, 3B, CHC |
| 23 | Eric Hosmer, 1B, KC |
| 24 | Lars Anderson,1B, BOS |
| 25 | Mike Moustakas, 3B, KC |

MOST SENT STORIES ON ESPN.COM