Commentary
Daily Futures: Flower(s) power
Forgive the obvious headline, but Ozzie Guillen may soon have a new backstop
Updated:
May 11, 2010, 7:49 AM ET
By
Kevin Goldstein
| Baseball Prospectus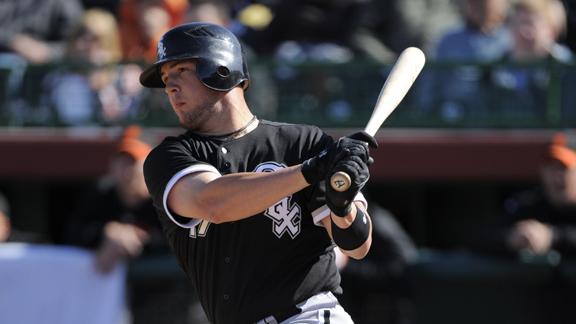 Getty ImagesA.J.'s hearing footsteps -- and they are not Michael Barrett's.
Gotta Take The Good With The Bad
Tyler Flowers
, C,
Chicago White Sox
(Triple-A Charlotte)
Monday's stats:
2-for-3, 2 HR (7), 2 R, 2 RBI, K
With A.J. Pierzynski doing nothing offensively while having some public spats with manager Ozzie Guillen, the name Tyler Flowers is coming up more and more in Chicago. The bulky backstop, acquired from the Atlanta Braves for Javier Vazquez two years ago, is keeping up his end of the bargain. Two home runs on Monday give him three in two days and an overall batting line of .287/.382/.598 in 25 games with the Knights. The problem, as always, remains the defense. One scout who recently saw Flowers thought his work behind the plate had regressed from last year, when it wasn't that good in the first place. He's thrown out just 4 of 17 base stealers this year, and his 245 pound frame doesn't allow for much mobility back there either. The scout said, "I can't see Ozzie living with that kind of defense back there," but the way A.J. is hitting, and mouthing off, he just might.
After the jump: Cubs news, Mets news, Marlins news, basically news from all over the minor league landscape. Get this. It's seriously a good three-minute read to start your sports-news-finding-day. Harmless and informative. For all this and more (think Olney, Law, etc.), you must be an ESPN Insider.
Insider
KEITH LAW'S TOP 25 PROSPECTS

Law
The rankings are limited to players who still have rookie eligibility; that means they have yet to exceed 130 at-bats or 50 innings pitched in the majors and have not yet spent 45 days on the active roster of a major league club, excluding call-ups during the roster expansion period after Sept. 1.
Click on a player's name to go to his individual scouting report (from January, click above for updates):
| NO. | PLAYER |
| --- | --- |
| 1 | Stephen Strasburg, RHP, WAS |
| 2 | Carlos Santana, C, CLE |
| 3 | Buster Posey, C, SFO |
| 4 | Mike Stanton, OF, FLA |
| 5 | Desmond Jennings, OF, TAM |
| 6 | Martin Perez, LHP, TEX |
| 7 | Domonic Brown, RF, PHI |
| 8 | Dustin Ackley, CF, SEA |
| 9 | Jesus Montero, C, NYY |
| 10 | Aroldis Chapman, LHP, CIN |
| 11 | Jeremy Hellickson, RHP, TAM |
| 12 | Casey Kelly, RHP, BOS |
| 13 | Aaron Hicks, RHP, MIN |
| 14 | Mike Trout, OF, LAA |
| 15 | Brett Wallace, 1B, TOR |
| 16 | Logan Morrison, 1B, FLA |
| 17 | Zach Britton, LHP, BAL |
| 18 | Tyler Matzek, LHP, COL |
| 19 | Michael Taylor, OF, OAK |
| 20 | Kyle Gibson, RHP, MIN |
| 21 | Shelly Miller, RHP, STL |
| 22 | Josh Vitters, 3B, CHC |
| 23 | Eric Hosmer, 1B, KC |
| 24 | Lars Anderson,1B, BOS |
| 25 | Mike Moustakas, 3B, KC |

MOST SENT STORIES ON ESPN.COM