Commentary
Daily Futures: The NL East rises higher
Domonic Brown (PHI) and Julio Teheran (ATL) tear it up on Wednesday night
Updated:
May 6, 2010, 1:02 PM ET
By
Kevin Goldstein
| Baseball Prospectus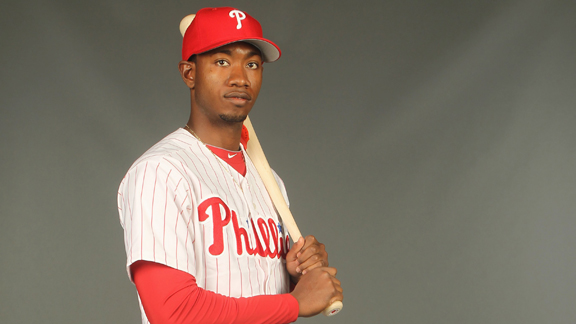 Getty ImagesDomonic Brown will likely be playing every day for Philly in 2011.
Here Comes The Power
Domonic Brown, OF, Philadelphia Phillies (Double-A Reading)
Wednesday's stats: 2-for-4, 2B, HR (4), 2 R, RBI
Unquestionably the top prospect in the Phillies' system, the 6-foot-5, 200-pound Brown was long thought by scouts to be close to a power surge. It hadn't yet happened on a consistent basis; Brown spent the first month of the year doing his usual act. He hit for average, doubles, and ran well, but so far in May, the power has arrived. He's hit three home runs in his last five games and is up to a whopping .358/.416/.701 for Reading. The Phillies will likely find a way to play him every day in 2011.
Ever heard of Julio Teheran? We hadn't either, until we edited this. Apparently he's the best pitcher in all of the minors, possibly. He's a Brave. (Figures.) For that and much more, grab this via Insider.
Insider
KEITH LAW'S TOP 25 PROSPECTS

Law
The rankings are limited to players who still have rookie eligibility; that means they have yet to exceed 130 at-bats or 50 innings pitched in the majors and have not yet spent 45 days on the active roster of a major league club, excluding call-ups during the roster expansion period after Sept. 1.
Click on a player's name to go to his individual scouting report (from January, click above for updates):
| NO. | PLAYER |
| --- | --- |
| 1 | Stephen Strasburg, RHP, WAS |
| 2 | Carlos Santana, C, CLE |
| 3 | Buster Posey, C, SFO |
| 4 | Mike Stanton, OF, FLA |
| 5 | Desmond Jennings, OF, TAM |
| 6 | Martin Perez, LHP, TEX |
| 7 | Domonic Brown, RF, PHI |
| 8 | Dustin Ackley, CF, SEA |
| 9 | Jesus Montero, C, NYY |
| 10 | Aroldis Chapman, LHP, CIN |
| 11 | Jeremy Hellickson, RHP, TAM |
| 12 | Casey Kelly, RHP, BOS |
| 13 | Aaron Hicks, RHP, MIN |
| 14 | Mike Trout, OF, LAA |
| 15 | Brett Wallace, 1B, TOR |
| 16 | Logan Morrison, 1B, FLA |
| 17 | Zach Britton, LHP, BAL |
| 18 | Tyler Matzek, LHP, COL |
| 19 | Michael Taylor, OF, OAK |
| 20 | Kyle Gibson, RHP, MIN |
| 21 | Shelly Miller, RHP, STL |
| 22 | Josh Vitters, 3B, CHC |
| 23 | Eric Hosmer, 1B, KC |
| 24 | Lars Anderson,1B, BOS |
| 25 | Mike Moustakas, 3B, KC |

MOST SENT STORIES ON ESPN.COM