Commentary
Daily Futures: Helping the neediest
One KC and one Pittsburgh prospect shine on Tuesday. It's about time.
Updated:
May 5, 2010, 7:14 AM ET
By
Kevin Goldstein
| Baseball Prospectus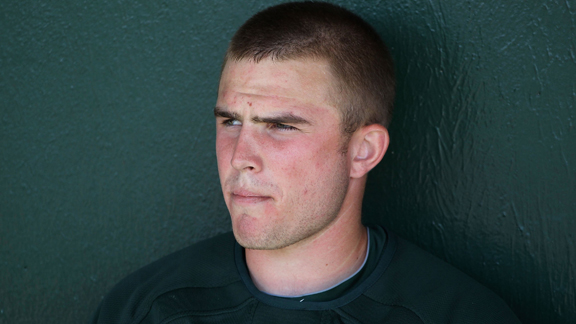 Getty ImagesMax Stassi went in the fourth round and got first-round money. Now his bat is catching up, too.
A Positive Change Of Environment
Mike Moustakas
, 3B,
Kansas City Royals
(Double-A Northwest Arkansas)
Tuesday's stats:
3-for-5, 2B, HR (5), R, 3 RBI, BB, K
The second overall pick in the 2007 draft, Moustakas never put up monster numbers, but both of Kansas City's A-ball affiliates are in environments that strongly favor pitchers. It took nearly three years for him to finally play in a friendly place. An oblique strain delayed his 2010 season, but he's quickly making up for lost time -- batting .417/.491/.917 in 12 games while amassing 44 total bases and driving in 16. He's finally looking like the player who earned a $4 million bonus, and with
Alex Gordon
and his position changes at Triple-A out of the way, his path to the big leagues is suddenly clear.
For info on the Pirates' Rudy Owens, the development of Max Stassi for the A's and more, you must be an ESPN Insider.
Insider
KEITH LAW'S TOP 25 PROSPECTS

Law
The rankings are limited to players who still have rookie eligibility; that means they have yet to exceed 130 at-bats or 50 innings pitched in the majors and have not yet spent 45 days on the active roster of a major league club, excluding call-ups during the roster expansion period after Sept. 1.
Click on a player's name to go to his individual scouting report (from January, click above for updates):
| NO. | PLAYER |
| --- | --- |
| 1 | Stephen Strasburg, RHP, WAS |
| 2 | Carlos Santana, C, CLE |
| 3 | Buster Posey, C, SFO |
| 4 | Mike Stanton, OF, FLA |
| 5 | Desmond Jennings, OF, TAM |
| 6 | Martin Perez, LHP, TEX |
| 7 | Domonic Brown, RF, PHI |
| 8 | Dustin Ackley, CF, SEA |
| 9 | Jesus Montero, C, NYY |
| 10 | Aroldis Chapman, LHP, CIN |
| 11 | Jeremy Hellickson, RHP, TAM |
| 12 | Casey Kelly, RHP, BOS |
| 13 | Aaron Hicks, RHP, MIN |
| 14 | Mike Trout, OF, LAA |
| 15 | Brett Wallace, 1B, TOR |
| 16 | Logan Morrison, 1B, FLA |
| 17 | Zach Britton, LHP, BAL |
| 18 | Tyler Matzek, LHP, COL |
| 19 | Michael Taylor, OF, OAK |
| 20 | Kyle Gibson, RHP, MIN |
| 21 | Shelly Miller, RHP, STL |
| 22 | Josh Vitters, 3B, CHC |
| 23 | Eric Hosmer, 1B, KC |
| 24 | Lars Anderson,1B, BOS |
| 25 | Mike Moustakas, 3B, KC |

MOST SENT STORIES ON ESPN.COM