Commentary
Daily Futures: Strasburg is human
Observers say his stuff looked as good as ever, but numbers are a concern
Updated:
May 3, 2010, 12:19 PM ET
By
Kevin Goldstein
| Baseball Prospectus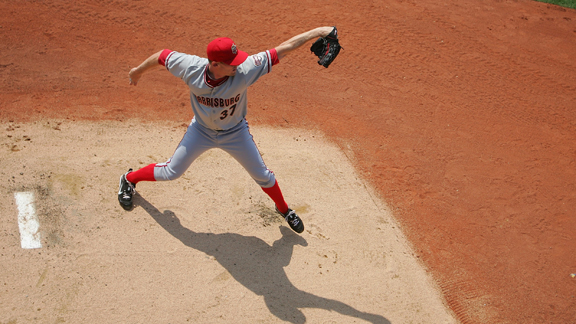 Getty ImagesHe may soon trade in this uni for a Syracuse Chiefs one.
The Strasburg Watch: Has It Hit A Snag?
Stephen Strasburg
, RHP,
Washington Nationals
(Double-A Harrisburg)
Sunday's stats:
4.2 IP, 6 H, 4 R (3 ER), 3 BB, 4 K
Here's a lesson about why focusing on merely numbers can be dangerous. On the surface, Strasburg struggled for the first time this season on Sunday. He allowed
three times
as many earned runs as he had in his first four starts while walking a career-high three. However, according to those in attendance, Strasburg was a good as ever and the victim of an umpire with a shrinking strike zone. One observer described a number of the hits off Strasburg as "dinky." By all accounts, he will pitch Friday night for the Triple-A Syracuse Chiefs.
Strasburg for free. OK, you got that. Now, for more detailed info -- including this kid Stanton for the Marlins, who is just killing the ball, and a few reclamation projects scattered about the country -- you must be an Insider.
Insider
KEITH LAW'S TOP 25 PROSPECTS

Law
The rankings are limited to players who still have rookie eligibility; that means they have yet to exceed 130 at-bats or 50 innings pitched in the majors and have not yet spent 45 days on the active roster of a major league club, excluding call-ups during the roster expansion period after Sept. 1.
Click on a player's name to go to his individual scouting report (from January, click above for updates):
| NO. | PLAYER |
| --- | --- |
| 1 | Stephen Strasburg, RHP, WAS |
| 2 | Carlos Santana, C, CLE |
| 3 | Buster Posey, C, SFO |
| 4 | Mike Stanton, OF, FLA |
| 5 | Desmond Jennings, OF, TAM |
| 6 | Martin Perez, LHP, TEX |
| 7 | Domonic Brown, RF, PHI |
| 8 | Dustin Ackley, CF, SEA |
| 9 | Jesus Montero, C, NYY |
| 10 | Aroldis Chapman, LHP, CIN |
| 11 | Jeremy Hellickson, RHP, TAM |
| 12 | Casey Kelly, RHP, BOS |
| 13 | Aaron Hicks, RHP, MIN |
| 14 | Mike Trout, OF, LAA |
| 15 | Brett Wallace, 1B, TOR |
| 16 | Logan Morrison, 1B, FLA |
| 17 | Zach Britton, LHP, BAL |
| 18 | Tyler Matzek, LHP, COL |
| 19 | Michael Taylor, OF, OAK |
| 20 | Kyle Gibson, RHP, MIN |
| 21 | Shelly Miller, RHP, STL |
| 22 | Josh Vitters, 3B, CHC |
| 23 | Eric Hosmer, 1B, KC |
| 24 | Lars Anderson,1B, BOS |
| 25 | Mike Moustakas, 3B, KC |

MOST SENT STORIES ON ESPN.COM