Commentary
Tim Beckham bounces back
Former No. 1 overall pick leads list of second-chance prospects
Updated:
July 6, 2011, 12:08 PM ET
By
Kevin Goldstein
| Baseball Prospectus
Quick question: At the beginning of the season, who had Tim Beckham pegged to play in this weekend's Futures Game?
The answer is nobody, and his presence there is proof of a very important point when it comes to player development. Sometimes, things simply take a while. We can easily get excited about Bryce Harper in Double-A as an 18-year-old or Mike Trout tearing up the Texas League at 19, but those are the exceptions. The journey from draft day to the big leagues is, more often than not, one filled with detours and on-the-fly adjustments, even for the draft's top pick.
Beckham was the No. 1 overall pick in in 2008, but after that his stock plummeted with a pair of downright boring seasons at Low-A and High-A, leaving some to throw the bust label on him far too early. While a recent slump has brought his numbers down (to a more pedestrian .278 AVG/.341 OBP/.392 SLG) at Double-A Montgomery, there has been real progress, both in his statistics and his scouting reports. Players usually see a downturn in their first exposure to upper-level pitching, but Beckham needed just 64 games to match his season high of five home runs, and it's come at no cost to his approach, as his strikeout rate has dipped along with his error rate in the field.
Two scouts who have evaluated Beckham in the past two months noted significant improvement in Beckham's defense. Seen as potentially moving off of shortstop earlier in his career, Beckham is not only leaner than he was as a teen, but he's cleaned up his mechanics, and his arm has always been a plus tool. Offensively, the scouts did not see a future star, but combined with his ability to play baseball's toughest position, the offense should be enough to make him an everyday player and possibly an above-average one at a position where there are arguably less than 30 players who fit that bill.
To read more about Beckham, plus minor league prospects who have emerged for the Reds, Red Sox, Phillies and Rockies, you must be an ESPN Insider.
ESPN The Magazine subscribers

Need more information?
SPONSORED HEADLINES
MORE MLB HEADLINES
MOST SENT STORIES ON ESPN.COM
Insider MLB Content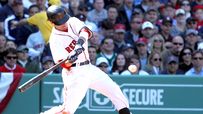 WEEK OF OCT. 30
Nov. 5:
Bowden: Grading the Jim Thome deal
Nov. 5:
Law: Thome, Phillies aren't a great fit
Nov. 4:
Bowden: Pricing the free agents
Nov. 3:
Law: Ranking top 50 MLB free agents
Nov. 2:
Jedlovec: Worst Gold Glove selections
Nov. 1:
Meyers: Buyer beware of C.J. Wilson
Oct. 31:
Cameron: Papi a fit in the Bronx
Oct. 30:
Perry: Finding free agency solutions
Oct. 30:
Szymborski: St. Louis without Pujols
WEEK OF OCT. 16
Oct. 28:
Law: Chapman still needs work
Oct. 26:
BP: Batter-pitcher data is overrated
Oct. 24:
FanGraphs: A blueprint for C.J. Wilson
Oct. 21:
Cameron: Cards should bench Berkman
Oct. 20:
BP: Why did Washington walk Punto?
Oct. 19:
Szymborski: Sims favor the Rangers
Oct. 18:
Bowden: Ranking all 50 WS players
Oct. 18:
Jedlovec: Previewing WS defenses
Oct. 17:
Perry: World Series hinges on relief
Oct. 16:
Szymborski: Milwaukee without Fielder
Oct. 16:
FanGraphs: Brewers' NLCS miscues
KISS 'EM GOODBYE
Oct. 30:
St. Louis Cardinals
Oct. 29:
Texas Rangers
Oct. 18:
Milwaukee Brewers
Oct. 17:
Detroit Tigers
Oct. 8:
Arizona Diamondbacks
Oct. 8:
Philadelphia Phillies
Oct. 7:
New York Yankees
Oct. 5:
Tampa Bay Rays
Sept. 29:
Atlanta Braves
Sept. 29:
Boston Red Sox
Sept. 27:
Los Angeles Angels
Sept. 26:
San Francisco Giants
Sept. 25:
Cleveland Indians
Sept. 24:
Chicago White Sox
Sept. 23:
Oakland A's
Sept. 22:
Los Angeles Dodgers
Sept. 21:
Colorado Rockies
Sept. 20:
Toronto Blue Jays
Sept. 19:
Cincinnati Reds
Sept. 18:
San Diego Padres
Sept. 17:
Pittsburgh Pirates
Sept. 16:
Kansas City Royals
Sept. 15:
Minnesota Twins
Sept. 14:
New York Mets
Sept. 13:
Washington Nationals
Sept. 12:
Seattle Mariners
Sept. 11:
Chicago Cubs
Sept. 10:
Baltimore Orioles
Sept. 9:
Florida Marlins
Sept. 8:
Houston Astros
ESSENTIAL LINKS