Commentary
Addition by subtraction
Replacing underachieving players with new blood could energize these lineups
Updated:
June 29, 2011, 2:56 PM ET
By
Ben Lindbergh
| Baseball Prospectus
As teams approach the 81-game milestone that marks the official midpoint of the season, it's become clear that some of last winter's best-laid plans have already gone awry. However, it's often not the presence of an underperforming player that defines a team's season, but how the team attempts -- or fails to attempt -- to correct that weakness. Clubs that stay content with subpar production for too long run the risk of finding themselves excluded from October, while those that respond proactively can salvage a season before it runs off the rails.
Some teams already have acted to address obvious deficiencies. After watching Jack Hannahan hit .171/.272/.240 since May 4 and backup Adam Everett hit .217/.277/.233 on the season, the Indians decided not to let cold bats at the hot corner sink their surprising season, calling up top prospect Lonnie Chisenhall on Monday to fill the offensive void. Some other clubs still suffering from counterproductive contributions could learn from the Indians' example.
The least productive position in baseball this season has been first base in Baltimore, where Derrek Lee and an assortment of part-timers led by Luke Scott and Brandon Snyder have combined to play nearly two full wins below replacement level (WARP), courtesy of total breakdowns at the plate, on the bases and in the field. Of course, the Orioles wouldn't make the playoffs even if they could replace their first-base flops with Prince Fielder the rest of the way.
What we're really interested in are the positional black holes that might actually pull a team out of the playoffs. With that in mind, here are this season's 10 least productive positions (by WARP) on contending teams, along with recommendations for how each club can try to fix its flaw from within:
To see the biggest lineup holes among contenders, you must become an ESPN Insider.
ESPN The Magazine subscribers

Need more information?
Editor-in-chief of Baseball Prospectus
Has interned for multiple MLB teams
Member of the BBWAA
SPONSORED HEADLINES
MORE MLB HEADLINES
MOST SENT STORIES ON ESPN.COM
Insider MLB Content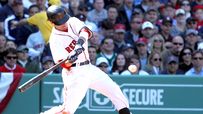 WEEK OF OCT. 30
Nov. 5:
Bowden: Grading the Jim Thome deal
Nov. 5:
Law: Thome, Phillies aren't a great fit
Nov. 4:
Bowden: Pricing the free agents
Nov. 3:
Law: Ranking top 50 MLB free agents
Nov. 2:
Jedlovec: Worst Gold Glove selections
Nov. 1:
Meyers: Buyer beware of C.J. Wilson
Oct. 31:
Cameron: Papi a fit in the Bronx
Oct. 30:
Perry: Finding free agency solutions
Oct. 30:
Szymborski: St. Louis without Pujols
WEEK OF OCT. 16
Oct. 28:
Law: Chapman still needs work
Oct. 26:
BP: Batter-pitcher data is overrated
Oct. 24:
FanGraphs: A blueprint for C.J. Wilson
Oct. 21:
Cameron: Cards should bench Berkman
Oct. 20:
BP: Why did Washington walk Punto?
Oct. 19:
Szymborski: Sims favor the Rangers
Oct. 18:
Bowden: Ranking all 50 WS players
Oct. 18:
Jedlovec: Previewing WS defenses
Oct. 17:
Perry: World Series hinges on relief
Oct. 16:
Szymborski: Milwaukee without Fielder
Oct. 16:
FanGraphs: Brewers' NLCS miscues
KISS 'EM GOODBYE
Oct. 30:
St. Louis Cardinals
Oct. 29:
Texas Rangers
Oct. 18:
Milwaukee Brewers
Oct. 17:
Detroit Tigers
Oct. 8:
Arizona Diamondbacks
Oct. 8:
Philadelphia Phillies
Oct. 7:
New York Yankees
Oct. 5:
Tampa Bay Rays
Sept. 29:
Atlanta Braves
Sept. 29:
Boston Red Sox
Sept. 27:
Los Angeles Angels
Sept. 26:
San Francisco Giants
Sept. 25:
Cleveland Indians
Sept. 24:
Chicago White Sox
Sept. 23:
Oakland A's
Sept. 22:
Los Angeles Dodgers
Sept. 21:
Colorado Rockies
Sept. 20:
Toronto Blue Jays
Sept. 19:
Cincinnati Reds
Sept. 18:
San Diego Padres
Sept. 17:
Pittsburgh Pirates
Sept. 16:
Kansas City Royals
Sept. 15:
Minnesota Twins
Sept. 14:
New York Mets
Sept. 13:
Washington Nationals
Sept. 12:
Seattle Mariners
Sept. 11:
Chicago Cubs
Sept. 10:
Baltimore Orioles
Sept. 9:
Florida Marlins
Sept. 8:
Houston Astros
ESSENTIAL LINKS