Commentary
The year of the unknown reliever
These four hurlers deserve All-Star nods, but probably won't get them
Updated:
June 17, 2011, 11:53 AM ET
By
Dave Cameron
| FanGraphs
If the American League has a lead in the ninth inning of the All-Star Game next month, you can be pretty confident that Mariano Rivera will be coming out of the bullpen to get the last three outs. Rivera has become a staple at the event, making the team in 11 of his 16 career seasons, and is pitching well enough this year to justify yet another selection.
However, if the managers and players select the most worthy candidates to fill the other spots dedicated to relief pitchers, Rivera might be the only guy you recognize in that bullpen. If 2010 was the year of the pitcher, 2011 is the year of the unknown reliever. Let's look at four nearly anonymous bullpen arms who have pitched well enough to earn a spot at the Midsummer Classic.
David Pauley, RHP, Seattle Mariners
You could win a lot of bar bets by asking your friends which pitcher leads all American League relievers in both ERA (1.14) and innings pitched (39 1/3). Unless your friends are nerdy Mariners fans, odds are pretty good they won't guess that Pauley is the guy pulling off that trick at the moment. By dramatically cutting his walk rate and inducing a lot of ground balls, Pauley has developed into a solid late-innings option for Eric Wedge after beginning the year penciled into the long-relief role.
To see the rest of the unknown relievers who probably should be well known, become an ESPN Insider today.
ESPN The Magazine subscribers

Need more information?
Managing editor of FanGraphs
Founder of U.S.S. Mariner
Also contributes to Wall Street Journal
SPONSORED HEADLINES
MORE MLB HEADLINES
MOST SENT STORIES ON ESPN.COM
Insider MLB Content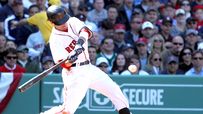 WEEK OF OCT. 30
Nov. 5:
Bowden: Grading the Jim Thome deal
Nov. 5:
Law: Thome, Phillies aren't a great fit
Nov. 4:
Bowden: Pricing the free agents
Nov. 3:
Law: Ranking top 50 MLB free agents
Nov. 2:
Jedlovec: Worst Gold Glove selections
Nov. 1:
Meyers: Buyer beware of C.J. Wilson
Oct. 31:
Cameron: Papi a fit in the Bronx
Oct. 30:
Perry: Finding free agency solutions
Oct. 30:
Szymborski: St. Louis without Pujols
WEEK OF OCT. 16
Oct. 28:
Law: Chapman still needs work
Oct. 26:
BP: Batter-pitcher data is overrated
Oct. 24:
FanGraphs: A blueprint for C.J. Wilson
Oct. 21:
Cameron: Cards should bench Berkman
Oct. 20:
BP: Why did Washington walk Punto?
Oct. 19:
Szymborski: Sims favor the Rangers
Oct. 18:
Bowden: Ranking all 50 WS players
Oct. 18:
Jedlovec: Previewing WS defenses
Oct. 17:
Perry: World Series hinges on relief
Oct. 16:
Szymborski: Milwaukee without Fielder
Oct. 16:
FanGraphs: Brewers' NLCS miscues
KISS 'EM GOODBYE
Oct. 30:
St. Louis Cardinals
Oct. 29:
Texas Rangers
Oct. 18:
Milwaukee Brewers
Oct. 17:
Detroit Tigers
Oct. 8:
Arizona Diamondbacks
Oct. 8:
Philadelphia Phillies
Oct. 7:
New York Yankees
Oct. 5:
Tampa Bay Rays
Sept. 29:
Atlanta Braves
Sept. 29:
Boston Red Sox
Sept. 27:
Los Angeles Angels
Sept. 26:
San Francisco Giants
Sept. 25:
Cleveland Indians
Sept. 24:
Chicago White Sox
Sept. 23:
Oakland A's
Sept. 22:
Los Angeles Dodgers
Sept. 21:
Colorado Rockies
Sept. 20:
Toronto Blue Jays
Sept. 19:
Cincinnati Reds
Sept. 18:
San Diego Padres
Sept. 17:
Pittsburgh Pirates
Sept. 16:
Kansas City Royals
Sept. 15:
Minnesota Twins
Sept. 14:
New York Mets
Sept. 13:
Washington Nationals
Sept. 12:
Seattle Mariners
Sept. 11:
Chicago Cubs
Sept. 10:
Baltimore Orioles
Sept. 9:
Florida Marlins
Sept. 8:
Houston Astros
ESSENTIAL LINKS