Commentary
The Orioles' perception problem
While many dwell on their pitching, that's not Baltimore's biggest issue
Updated:
June 16, 2011, 12:37 PM ET
By
Jay Jaffe
| Baseball Prospectus
The Orioles' collection of high-upside young starters -- Brian Matusz, Zach Britton, Jake Arrieta, and Chris Tillman -- was supposed to be the team's ticket out of irrelevance, the prescription to help the once-model franchise end a humiliating streak of 13 consecutive losing seasons. Yet several recent headlines suggest a staff going to seed.
Matusz, the most established of the group, left his latest start after retiring only four of 13 hitters, with his average velocity down as much as 4 mph. Britton, whose arrival in the majors was accelerated by Matusz's two-month absence due to an intercostal strain, will skip a turn in an effort to limit his workload, conjuring images of the Yankees' futile machinations involving Joba Chamberlain. Finally, the club announced that pitching coach Mark Connor had resigned due to personal reasons, with bullpen coach Rick Adair taking over. Collectively, these stories paint a picture of an organization struggling mightily to develop young pitchers as the team fumbles along below .500 (30-35) and in last place in the AL East. But pitching isn't what's keeping the Orioles down.
To read more about why the Orioles are really struggling, become an ESPN Insider today.
ESPN The Magazine subscribers

Need more information?
SPONSORED HEADLINES
MORE MLB HEADLINES
MOST SENT STORIES ON ESPN.COM
Insider MLB Content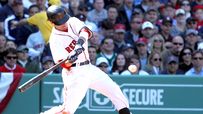 WEEK OF OCT. 30
Nov. 5:
Bowden: Grading the Jim Thome deal
Nov. 5:
Law: Thome, Phillies aren't a great fit
Nov. 4:
Bowden: Pricing the free agents
Nov. 3:
Law: Ranking top 50 MLB free agents
Nov. 2:
Jedlovec: Worst Gold Glove selections
Nov. 1:
Meyers: Buyer beware of C.J. Wilson
Oct. 31:
Cameron: Papi a fit in the Bronx
Oct. 30:
Perry: Finding free agency solutions
Oct. 30:
Szymborski: St. Louis without Pujols
WEEK OF OCT. 16
Oct. 28:
Law: Chapman still needs work
Oct. 26:
BP: Batter-pitcher data is overrated
Oct. 24:
FanGraphs: A blueprint for C.J. Wilson
Oct. 21:
Cameron: Cards should bench Berkman
Oct. 20:
BP: Why did Washington walk Punto?
Oct. 19:
Szymborski: Sims favor the Rangers
Oct. 18:
Bowden: Ranking all 50 WS players
Oct. 18:
Jedlovec: Previewing WS defenses
Oct. 17:
Perry: World Series hinges on relief
Oct. 16:
Szymborski: Milwaukee without Fielder
Oct. 16:
FanGraphs: Brewers' NLCS miscues
KISS 'EM GOODBYE
Oct. 30:
St. Louis Cardinals
Oct. 29:
Texas Rangers
Oct. 18:
Milwaukee Brewers
Oct. 17:
Detroit Tigers
Oct. 8:
Arizona Diamondbacks
Oct. 8:
Philadelphia Phillies
Oct. 7:
New York Yankees
Oct. 5:
Tampa Bay Rays
Sept. 29:
Atlanta Braves
Sept. 29:
Boston Red Sox
Sept. 27:
Los Angeles Angels
Sept. 26:
San Francisco Giants
Sept. 25:
Cleveland Indians
Sept. 24:
Chicago White Sox
Sept. 23:
Oakland A's
Sept. 22:
Los Angeles Dodgers
Sept. 21:
Colorado Rockies
Sept. 20:
Toronto Blue Jays
Sept. 19:
Cincinnati Reds
Sept. 18:
San Diego Padres
Sept. 17:
Pittsburgh Pirates
Sept. 16:
Kansas City Royals
Sept. 15:
Minnesota Twins
Sept. 14:
New York Mets
Sept. 13:
Washington Nationals
Sept. 12:
Seattle Mariners
Sept. 11:
Chicago Cubs
Sept. 10:
Baltimore Orioles
Sept. 9:
Florida Marlins
Sept. 8:
Houston Astros
ESSENTIAL LINKS