Commentary
Least-deserved job security
James Loney, Kevin Kouzmanoff and Jonny Gomes are getting too much playing time
Updated:
April 27, 2011, 11:42 AM ET
By
Matt Meyers
| ESPN Insider
When the Los Angeles Dodgers won the National League West in 2008 and 2009, much of the credit was given to their young homegrown core of outfielders Matt Kemp and Andre Ethier, catcher Russell Martin and first baseman James Loney.
In reality, it was a bit misleading to group them all together since their individual values are wildly different -- and this is becoming even more obvious as time goes by. Thus far this year, Kemp and Martin (who is now with the New York Yankees) are in top form, and Ethier continues to crush baseballs all over Chavez Ravine. All three are showing why the Dodgers had so much success when they were clicking on all cylinders together.
And then there's Loney. (Hey, it can't all be good news, right?)
The first baseman has picked up right where he left off last year ... and that's not a good thing. Loney posted a .616 OPS after the All-Star break in 2010 and is sporting a .470 mark 25 games into the 2011 season. The common refrain of the optimistic is "give him time, he'll come around." But the truth is that Loney was never that good in the first place, and he's one of a number of players who is the beneficiary of job security he never really deserved.
To read more about why James Loney, Kevin Kouzmanoff and Jonny Gomes don't deserve the playing time they're getting, you must be an ESPN Insider.
ESPN The Magazine subscribers

Need more information?
SPONSORED HEADLINES
MORE MLB HEADLINES
MOST SENT STORIES ON ESPN.COM
Insider MLB Content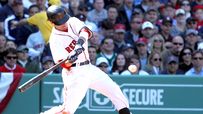 WEEK OF OCT. 30
Nov. 5:
Bowden: Grading the Jim Thome deal
Nov. 5:
Law: Thome, Phillies aren't a great fit
Nov. 4:
Bowden: Pricing the free agents
Nov. 3:
Law: Ranking top 50 MLB free agents
Nov. 2:
Jedlovec: Worst Gold Glove selections
Nov. 1:
Meyers: Buyer beware of C.J. Wilson
Oct. 31:
Cameron: Papi a fit in the Bronx
Oct. 30:
Perry: Finding free agency solutions
Oct. 30:
Szymborski: St. Louis without Pujols
WEEK OF OCT. 16
Oct. 28:
Law: Chapman still needs work
Oct. 26:
BP: Batter-pitcher data is overrated
Oct. 24:
FanGraphs: A blueprint for C.J. Wilson
Oct. 21:
Cameron: Cards should bench Berkman
Oct. 20:
BP: Why did Washington walk Punto?
Oct. 19:
Szymborski: Sims favor the Rangers
Oct. 18:
Bowden: Ranking all 50 WS players
Oct. 18:
Jedlovec: Previewing WS defenses
Oct. 17:
Perry: World Series hinges on relief
Oct. 16:
Szymborski: Milwaukee without Fielder
Oct. 16:
FanGraphs: Brewers' NLCS miscues
KISS 'EM GOODBYE
Oct. 30:
St. Louis Cardinals
Oct. 29:
Texas Rangers
Oct. 18:
Milwaukee Brewers
Oct. 17:
Detroit Tigers
Oct. 8:
Arizona Diamondbacks
Oct. 8:
Philadelphia Phillies
Oct. 7:
New York Yankees
Oct. 5:
Tampa Bay Rays
Sept. 29:
Atlanta Braves
Sept. 29:
Boston Red Sox
Sept. 27:
Los Angeles Angels
Sept. 26:
San Francisco Giants
Sept. 25:
Cleveland Indians
Sept. 24:
Chicago White Sox
Sept. 23:
Oakland A's
Sept. 22:
Los Angeles Dodgers
Sept. 21:
Colorado Rockies
Sept. 20:
Toronto Blue Jays
Sept. 19:
Cincinnati Reds
Sept. 18:
San Diego Padres
Sept. 17:
Pittsburgh Pirates
Sept. 16:
Kansas City Royals
Sept. 15:
Minnesota Twins
Sept. 14:
New York Mets
Sept. 13:
Washington Nationals
Sept. 12:
Seattle Mariners
Sept. 11:
Chicago Cubs
Sept. 10:
Baltimore Orioles
Sept. 9:
Florida Marlins
Sept. 8:
Houston Astros
ESSENTIAL LINKS