Commentary
Joey Votto vs. Albert Pujols
Comparing the two sluggers in terms of free-agency interest right now
Originally Published:
April 24, 2011
By
Jack Moore
| FanGraphs
For all the differences between the 2011 Cincinnati Reds and the 2011 St. Louis Cardinals, there is one striking similarity: the tremendous quality of the first basemen which headline these NL Central contenders. Albert Pujols may not have had the start that baseball fans have come to expect out of the man who has earned the moniker "The Machine," but his impending free agency remains one of the biggest stories in baseball. After receiving his first MVP award last season, Joey Votto has started 2011 on another MVP-caliber pace. Votto, however, won't hit the free-agent market until 2014. Let's forget reality for a second, though, and ask: If Votto were to join Pujols as a free agent after this season, which one would create more buzz around the league?
At first glance, it's difficult to imagine anybody overtaking Pujols. He owns three MVP awards, has played for nine All-Star teams and has never in his career failed to hit .300, slug 30 home runs, or drive in 100 RBIs. These feats of baseball insanity have resulted in rumors of a 10-year, $300 million contract for Pujols when he hits the market in November. However, at age 31, after 10 straight seasons of a .950 OPS or better, Pujols carries a .250/.311/.488 line into the weekend against Cincinnati.
To read about why Joey Votto would command more money as a free agent than Albert Pujols on the open market, you must be an ESPN Insider.
ESPN The Magazine subscribers

Need more information?
SPONSORED HEADLINES
MORE MLB HEADLINES
MOST SENT STORIES ON ESPN.COM
Insider MLB Content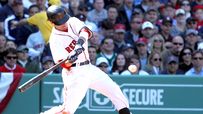 WEEK OF OCT. 30
Nov. 5:
Bowden: Grading the Jim Thome deal
Nov. 5:
Law: Thome, Phillies aren't a great fit
Nov. 4:
Bowden: Pricing the free agents
Nov. 3:
Law: Ranking top 50 MLB free agents
Nov. 2:
Jedlovec: Worst Gold Glove selections
Nov. 1:
Meyers: Buyer beware of C.J. Wilson
Oct. 31:
Cameron: Papi a fit in the Bronx
Oct. 30:
Perry: Finding free agency solutions
Oct. 30:
Szymborski: St. Louis without Pujols
WEEK OF OCT. 16
Oct. 28:
Law: Chapman still needs work
Oct. 26:
BP: Batter-pitcher data is overrated
Oct. 24:
FanGraphs: A blueprint for C.J. Wilson
Oct. 21:
Cameron: Cards should bench Berkman
Oct. 20:
BP: Why did Washington walk Punto?
Oct. 19:
Szymborski: Sims favor the Rangers
Oct. 18:
Bowden: Ranking all 50 WS players
Oct. 18:
Jedlovec: Previewing WS defenses
Oct. 17:
Perry: World Series hinges on relief
Oct. 16:
Szymborski: Milwaukee without Fielder
Oct. 16:
FanGraphs: Brewers' NLCS miscues
KISS 'EM GOODBYE
Oct. 30:
St. Louis Cardinals
Oct. 29:
Texas Rangers
Oct. 18:
Milwaukee Brewers
Oct. 17:
Detroit Tigers
Oct. 8:
Arizona Diamondbacks
Oct. 8:
Philadelphia Phillies
Oct. 7:
New York Yankees
Oct. 5:
Tampa Bay Rays
Sept. 29:
Atlanta Braves
Sept. 29:
Boston Red Sox
Sept. 27:
Los Angeles Angels
Sept. 26:
San Francisco Giants
Sept. 25:
Cleveland Indians
Sept. 24:
Chicago White Sox
Sept. 23:
Oakland A's
Sept. 22:
Los Angeles Dodgers
Sept. 21:
Colorado Rockies
Sept. 20:
Toronto Blue Jays
Sept. 19:
Cincinnati Reds
Sept. 18:
San Diego Padres
Sept. 17:
Pittsburgh Pirates
Sept. 16:
Kansas City Royals
Sept. 15:
Minnesota Twins
Sept. 14:
New York Mets
Sept. 13:
Washington Nationals
Sept. 12:
Seattle Mariners
Sept. 11:
Chicago Cubs
Sept. 10:
Baltimore Orioles
Sept. 9:
Florida Marlins
Sept. 8:
Houston Astros
ESSENTIAL LINKS