Commentary
Change is good for Narveson
By using his off-speed pitch more, Brewers lefty is generating lots of swinging strikes
Updated:
April 22, 2011, 1:45 PM ET
By
Dave Cameron
| FanGraphs
When you think of dominating pitcher performances, the first image that may come to mind is that of a batter flailing hopelessly at some unhittable pitch -- maybe it was Pedro Martinez's changeup, Randy Johnson's fastball or Justin Verlander's curveball. All three pitchers reached great heights by racking up swinging strikes, with the whiffs being a testament to just how good their stuff really was.
Swinging strike rate has always been a leading indicator of just how nasty a guy is on the mound. Last year, Francisco Liriano returned to being a front-line starting pitcher by leading the league in swinging strikes. Javier Vazquez, CC Sabathia and Johan Santana also have topped the leaderboards in recent years, and in most years, the pitcher with the best swinging strike rate is in contention for the Cy Young Award.
So, who has the best swinging strike rate in baseball so far in 2011? If you guessed Milwaukee's Chris Narveson, you're either Chris Narveson's mother or you've been browsing the statistics at FanGraphs recently. It's true, however, that the unheralded Narveson is racking up swings-and-misses at a higher rate than any other starting pitcher in baseball this year, and his ability to generate so many whiffs is a good sign for his performance over the rest of 2011.
To read more about why Chris Narveson's early success should be sustainable, you must be an ESPN Insider.
ESPN The Magazine subscribers

Need more information?
Managing editor of FanGraphs
Founder of U.S.S. Mariner
Also contributes to Wall Street Journal
SPONSORED HEADLINES
MORE MLB HEADLINES
MOST SENT STORIES ON ESPN.COM
Insider MLB Content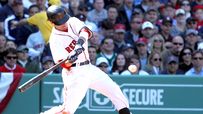 WEEK OF OCT. 30
Nov. 5:
Bowden: Grading the Jim Thome deal
Nov. 5:
Law: Thome, Phillies aren't a great fit
Nov. 4:
Bowden: Pricing the free agents
Nov. 3:
Law: Ranking top 50 MLB free agents
Nov. 2:
Jedlovec: Worst Gold Glove selections
Nov. 1:
Meyers: Buyer beware of C.J. Wilson
Oct. 31:
Cameron: Papi a fit in the Bronx
Oct. 30:
Perry: Finding free agency solutions
Oct. 30:
Szymborski: St. Louis without Pujols
WEEK OF OCT. 16
Oct. 28:
Law: Chapman still needs work
Oct. 26:
BP: Batter-pitcher data is overrated
Oct. 24:
FanGraphs: A blueprint for C.J. Wilson
Oct. 21:
Cameron: Cards should bench Berkman
Oct. 20:
BP: Why did Washington walk Punto?
Oct. 19:
Szymborski: Sims favor the Rangers
Oct. 18:
Bowden: Ranking all 50 WS players
Oct. 18:
Jedlovec: Previewing WS defenses
Oct. 17:
Perry: World Series hinges on relief
Oct. 16:
Szymborski: Milwaukee without Fielder
Oct. 16:
FanGraphs: Brewers' NLCS miscues
KISS 'EM GOODBYE
Oct. 30:
St. Louis Cardinals
Oct. 29:
Texas Rangers
Oct. 18:
Milwaukee Brewers
Oct. 17:
Detroit Tigers
Oct. 8:
Arizona Diamondbacks
Oct. 8:
Philadelphia Phillies
Oct. 7:
New York Yankees
Oct. 5:
Tampa Bay Rays
Sept. 29:
Atlanta Braves
Sept. 29:
Boston Red Sox
Sept. 27:
Los Angeles Angels
Sept. 26:
San Francisco Giants
Sept. 25:
Cleveland Indians
Sept. 24:
Chicago White Sox
Sept. 23:
Oakland A's
Sept. 22:
Los Angeles Dodgers
Sept. 21:
Colorado Rockies
Sept. 20:
Toronto Blue Jays
Sept. 19:
Cincinnati Reds
Sept. 18:
San Diego Padres
Sept. 17:
Pittsburgh Pirates
Sept. 16:
Kansas City Royals
Sept. 15:
Minnesota Twins
Sept. 14:
New York Mets
Sept. 13:
Washington Nationals
Sept. 12:
Seattle Mariners
Sept. 11:
Chicago Cubs
Sept. 10:
Baltimore Orioles
Sept. 9:
Florida Marlins
Sept. 8:
Houston Astros
ESSENTIAL LINKS