Commentary
MLB's most irreplaceable players
Several stars were injured this April, but which team will be most affected?
Updated:
April 19, 2011, 11:15 AM ET
By
Howard Megdal
| Special to ESPN Insider
It's been an awful couple of weeks for baseball injuries. On the young season, we've already seen stars Josh Hamilton, Joe Mauer, Evan Longoria and Ryan Zimmerman go on the disabled list. You can't really replace the production of players on that level, but some of them are more irreplaceable than others.
When determining the most valuable players in baseball, an ever-increasing number of statistical tools are now at our disposal. The most straightforward of these is wins above replacement (WAR). Yet analysis of which players are most valuable often seems to stop at the water's edge of that player's value in a vacuum. In reality, how valuable a player is to his team is determined not just by his own production, but also by how much more production he provides than his team's Plan B at the position. Yes, this means of evaluating penalizes players who play for deep teams, but it is a reality.
If a player has a WAR of 6.0 in a season, and his backup is negative -2.0, that player is more valuable to his team than another player with a WAR of 9.0 whose backup is worth 4.0.
That's why, on this list of the most irreplaceable players in baseball, you won't see Longoria. The estimated full-season dropoff from him to backup Sean Rodriguez is roughly 3.0. That's a lot, but it's not among the five highest in baseball. Hamilton was a big loss for the Rangers this week, but Texas doesn't lose nearly as much as you'd think. Thanks to David Murphy, one of the best fourth outfielders in the game, the dropoff is around 3-4 wins over a full season.
Let's take a closer look at the five most irreplaceable position players in baseball, whose misfortune would provide the most doom when you factor in the quality of the players' backup:
To read about who the five most irreplaceable position players in baseball are, you must be an ESPN Insider.
ESPN The Magazine subscribers

Need more information?
SPONSORED HEADLINES
MORE MLB HEADLINES
MOST SENT STORIES ON ESPN.COM
Insider MLB Content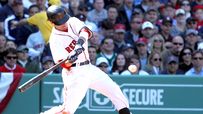 WEEK OF OCT. 30
Nov. 5:
Bowden: Grading the Jim Thome deal
Nov. 5:
Law: Thome, Phillies aren't a great fit
Nov. 4:
Bowden: Pricing the free agents
Nov. 3:
Law: Ranking top 50 MLB free agents
Nov. 2:
Jedlovec: Worst Gold Glove selections
Nov. 1:
Meyers: Buyer beware of C.J. Wilson
Oct. 31:
Cameron: Papi a fit in the Bronx
Oct. 30:
Perry: Finding free agency solutions
Oct. 30:
Szymborski: St. Louis without Pujols
WEEK OF OCT. 16
Oct. 28:
Law: Chapman still needs work
Oct. 26:
BP: Batter-pitcher data is overrated
Oct. 24:
FanGraphs: A blueprint for C.J. Wilson
Oct. 21:
Cameron: Cards should bench Berkman
Oct. 20:
BP: Why did Washington walk Punto?
Oct. 19:
Szymborski: Sims favor the Rangers
Oct. 18:
Bowden: Ranking all 50 WS players
Oct. 18:
Jedlovec: Previewing WS defenses
Oct. 17:
Perry: World Series hinges on relief
Oct. 16:
Szymborski: Milwaukee without Fielder
Oct. 16:
FanGraphs: Brewers' NLCS miscues
KISS 'EM GOODBYE
Oct. 30:
St. Louis Cardinals
Oct. 29:
Texas Rangers
Oct. 18:
Milwaukee Brewers
Oct. 17:
Detroit Tigers
Oct. 8:
Arizona Diamondbacks
Oct. 8:
Philadelphia Phillies
Oct. 7:
New York Yankees
Oct. 5:
Tampa Bay Rays
Sept. 29:
Atlanta Braves
Sept. 29:
Boston Red Sox
Sept. 27:
Los Angeles Angels
Sept. 26:
San Francisco Giants
Sept. 25:
Cleveland Indians
Sept. 24:
Chicago White Sox
Sept. 23:
Oakland A's
Sept. 22:
Los Angeles Dodgers
Sept. 21:
Colorado Rockies
Sept. 20:
Toronto Blue Jays
Sept. 19:
Cincinnati Reds
Sept. 18:
San Diego Padres
Sept. 17:
Pittsburgh Pirates
Sept. 16:
Kansas City Royals
Sept. 15:
Minnesota Twins
Sept. 14:
New York Mets
Sept. 13:
Washington Nationals
Sept. 12:
Seattle Mariners
Sept. 11:
Chicago Cubs
Sept. 10:
Baltimore Orioles
Sept. 9:
Florida Marlins
Sept. 8:
Houston Astros
ESSENTIAL LINKS