Commentary
Speed bump
Only one thing is slowing Aroldis Chapman's modeling career -- his 105 mph fastball
Updated:
March 28, 2011, 6:18 PM ET
By
Molly Knight
| ESPN The Magazine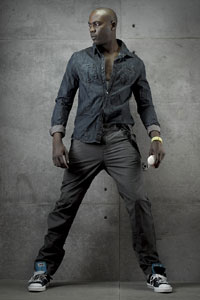 Christopher Kolk for ESPN The MagazineDenim shirt and suspender cargo pants by Rogue; gel watch by Drop; sneakers by Converse for Foot Locker.
In another life, Aroldis Chapman is standing on top of a mountain in the tiny European nation of Andorra, with his left arm cocked back like a slingshot. He is wearing a snug lavender dress shirt, a blue tie, brown slacks and very nice, very expensive shoes. He's about to fire a baseball, but forget that for now, because this vision isn't about the sport the gods have chosen for him. The scene is real, and Chapman lived it 18 months ago, when he spent a day posing for a renowned photographer in one of the world's most stunning locales. He replays it often in his head when he ponders what his life might have been like if his ability to register 105 mph on a radar gun hadn't earned him a $30 million promise from the Cincinnati Reds and a one-way plane ticket out of Cuba.
Chapman, who is 23, has a long, lean frame and high, prominent cheekbones. But those features retreat when he's asked questions in English. He tends to fidget and look at the ground in such situations. Friends say he's shy around strangers although people close to him can't get him to shut up. And when he's in his element, like during a photo shoot, the pitcher is patient, relaxed and easy. "I will leave baseball some day and be a model," he says through his interpreter, Tomas Vera, punctuating his words with a laugh.
To read more about Aroldis Chapman's transition to life in the United States, become an ESPN Insider today!
Insider
ESPN The Magazine: April 4, 2011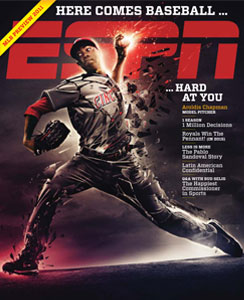 Check out ESPN The Magazine's April 4, 2011 issue below.
MLB Preview
Go/Play

MOST SENT STORIES ON ESPN.COM