Commentary
Mayne Street: Troy Tulowitzki
Kenny Mayne chats with the Colorado Rockies SS
Originally Published:
December 20, 2010
By
Kenny Mayne
| ESPN The Magazine
KM: Congrats -- I hear you got married recently.
TT: Oh, I don't know about recently; a good year ago.
KM: I'll have to reconsider my sources. She's your high school sweetheart, right? She graduate yet?
TT: Yes, she finally did a week ago. So I'm all good.
KM: Some baseball website named her one of the hottest wives in baseball. Are you proud of that?
TT: If we were talking about swimsuit models, I might be proud. But it's just a baseball website. A lot of the wives out there aren't the greatest looking.
To read the rest of Kenny's interview with Troy Tulowitzki, you must be an ESPN Insider.
Insider
Anchor/Reporter
Kenny Mayne -- known for his offbeat style, dry humor and unique sayings -- has served a variety of roles in more than 10 years with ESPN. He currently provides features to SportsCenter and "The Mayne Event" segments to Sunday NFL Countdown.
ESPN The Magazine: December 27, 2010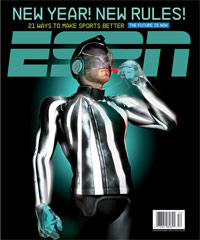 Check out ESPN The Magazine's December 27, 2010 issue -- New Year! New Rules! -- below.
Features

MOST SENT STORIES ON ESPN.COM