Commentary
Help is on the way, Seattle Mariners
James Jones, Justin Smoak had good minor league postseasons in SEA's organization
Originally Published:
September 27, 2010
By
Kevin Goldstein
| Baseball Prospectus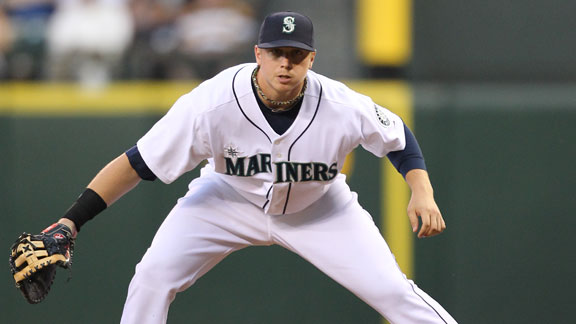 Getty ImagesJustin Smoak looked rough when he came up to Seattle this summer, but he seems to have stopped pressing.
The minor league postseason is coming to an end. Here are 10 notable performances:
Darrell Ceciliani, OF, New York Mets (Short-season Brooklyn)
A fourth-round pick in 2009, Ceciliani kind of fell off the radar when he was held back for extended spring training, but he moved back into the spotlight with a dynamic .351/.410/.531 (AVG/OBP/SLG) showing for the Cyclones during the regular season. A plus-plus runner with true center-field skills, the 20-year-old Oregon native kept it up during the playoffs, going 9-for-19 with four walks and four stolen bases. His 2011 full-season debut is among the most anticipated in the system.
For Kevin's full list, you need to be an ESPN Insider.
Insider
INSIDER TOP PROSPECTS WATCH
Insider's team of experts is watching the minor leagues carefully, following the top prospects and covering them from every angle.
Prospect Features
Oct. 4:
Goldstein: Minor league mirage stats
Sept. 27:
Minor league top performances
Sept. 20:
The All-Disappointing team
Sept. 14:
Law: Re-ranking the rookies of 2010
Sept. 13:
Minor league All-Star team
Sept. 10:
Grey: Top fantasy rookies for 2011
Sept. 7:
10-spot: Mark Prior is back
Sept. 3:
Dustin Ackley's defiant shift
August 23:
10 top pitchers due September calls
August 18:
Law's NL draft signings wrap
August 17:
Law's AL draft signings wrap
August 16:
Zach Britton looks good
August 9:
Watch for Oswaldo Arcia
August 2:
Prospects falling from grace
July 19:
10-spot: Call-ups for contenders
July 16:
Grey: Notes from the Futures Game
July 14:
Law: Vitek off to good start
July 12:
10-spot: Top trade prospects
July 11:
Grey: Brown developing fast
July 11:
Law: Trout impresses at Futures Game
July 10:
Law: Ranking the Futures Game
Goldstein's Organization Watch
September 29:
Nats, Red Sox, Braves
September 22:
Reds, Twins, Rangers
September 15:
Yankees' pitching
September 8:
Red Sox, Angels, Dodgers
September 1:
Nats, Marlins, Mets
August 25:
A's, Mariners, Angels
August 18:
Reds, Twins and Padres
August 11:
Indians, Cubs, Jays
August 4:
Royals, Pirates, Astros
July 28:
Mets, Dodgers and Red Sox
July 21:
A look at AL pitching depth
July 14:
Barren farm systems
July 7:
Making a match for Lee
June 30:
Updating the AL West
June 23:
Checking out the AL East
June 16:
Pirates, Indians and Marlins on move
June 8:
After Strasburg, no help for Nats
June 2:
Surprises for Reds, Padres and Jays
May 26:
Top billing for Rays, Twins and Phillies
May 19:
Bottoms up for O's, M's and Astros
Prospect Info
•
Keith Law's updated top 25 prospects (6/29)
•
Keith Law's updated top 25 prospects (5/18)
•
Law's Top 100 prospects (January)
•
Organization Rankings
•
MLB Draft Blog

MOST SENT STORIES ON ESPN.COM