Kiss 'Em Goodbye: Cleveland Indians
Until the pitching improves, the Indians' punchline status may persist
Originally Published:
September 24, 2010
ESPN Insider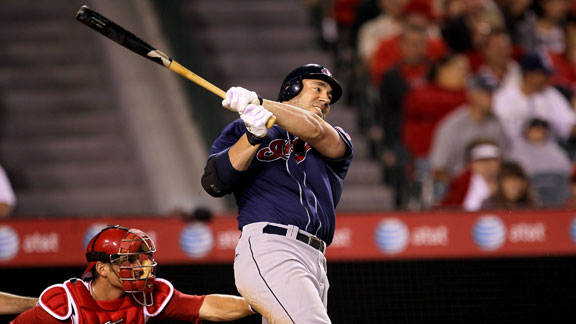 Getty ImagesTravis Hafner has hardly been the Pronk of old.
Kiss 'Em Goodbye is a series focusing on MLB teams as their postseason dreams fade -- whether in September (or before), the League Division Series, League Championship Series or World Series. It combines a broad overview of this season from Buster Olney, a take from Baseball Prospectus, a look toward an immediate 2011 move courtesy of Rumor Central and Kevin Goldstein's farm system overview. You can find all the teams on one page by going here.
Now, it's time to kiss the Cleveland Indians goodbye.
For the full breakdown of the Indians'' future from all angles -- Olney's take, BP's take, Rumor Central's ideas and buzz, and the farm system -- you need to be an ESPN Insider.
Insider
The Kiss 'Em Goodbye Series

Insider and Baseball Prospectus now ask: What went wrong for each MLB team, and what may the future hold? We'll be covering the playoff teams as they're eliminated, and finish off with what the World Series champs need to do to improve (hey, there's always something).

Week of Sept. 12
Week of Sept. 19
Week of Sept. 26
The Playoff Teams (as eliminated)

MOST SENT STORIES ON ESPN.COM