Commentary
Mark Prior is back
The former Cubs flamethrower is trying to resurrect his career
Updated:
September 7, 2010, 5:41 PM ET
By
Kevin Goldstein
| Baseball Prospectus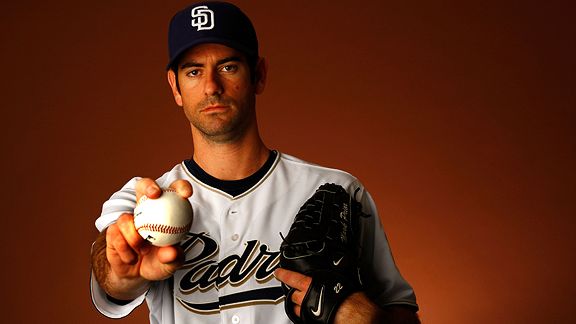 Jamie Squire/Getty ImagesMark Prior is pitching again, this time for a Texas Rangers affiliate.
In this week's 10-pack, you'll find out about a pitcher trying to make a comeback, another strong pitching prospect for the Phillies and a 26-year-old Cuban catcher who is playing well in the Cubs' minor league system.
Mark Prior, RHP, Texas Rangers (Triple-A Oklahoma City)
It just seemed weird to write; Mark Prior, Texas Ranger. Having not pitched in organized baseball since 2006, the former next big thing finally returned on Sunday, pitching a scoreless inning of relief while giving up two hits, a walk and striking out two. It wasn't an easy frame for Prior -- he needed 28 pitches to generate his three outs -- and on a stuff level, he's a shell of his former self, sitting at just 89-91 mph with his fastball while flashing a decent-at-best breaking ball. He could have easily walked away from the game and been set for life financially, but he had something to prove, if only to himself, and it's hard not to root for a guy like that.
For a look at prospects including Mark Prior, J.J. Hoover and Justin Turner, you must be an ESPN Insider.
Insider
INSIDER TOP PROSPECTS WATCH
Insider's team of experts is watching the minor leagues carefully, following the top prospects and covering them from every angle.
Prospect Features
Oct. 4:
Goldstein: Minor league mirage stats
Sept. 27:
Minor league top performances
Sept. 20:
The All-Disappointing team
Sept. 14:
Law: Re-ranking the rookies of 2010
Sept. 13:
Minor league All-Star team
Sept. 10:
Grey: Top fantasy rookies for 2011
Sept. 7:
10-spot: Mark Prior is back
Sept. 3:
Dustin Ackley's defiant shift
August 23:
10 top pitchers due September calls
August 18:
Law's NL draft signings wrap
August 17:
Law's AL draft signings wrap
August 16:
Zach Britton looks good
August 9:
Watch for Oswaldo Arcia
August 2:
Prospects falling from grace
July 19:
10-spot: Call-ups for contenders
July 16:
Grey: Notes from the Futures Game
July 14:
Law: Vitek off to good start
July 12:
10-spot: Top trade prospects
July 11:
Grey: Brown developing fast
July 11:
Law: Trout impresses at Futures Game
July 10:
Law: Ranking the Futures Game
Goldstein's Organization Watch
September 29:
Nats, Red Sox, Braves
September 22:
Reds, Twins, Rangers
September 15:
Yankees' pitching
September 8:
Red Sox, Angels, Dodgers
September 1:
Nats, Marlins, Mets
August 25:
A's, Mariners, Angels
August 18:
Reds, Twins and Padres
August 11:
Indians, Cubs, Jays
August 4:
Royals, Pirates, Astros
July 28:
Mets, Dodgers and Red Sox
July 21:
A look at AL pitching depth
July 14:
Barren farm systems
July 7:
Making a match for Lee
June 30:
Updating the AL West
June 23:
Checking out the AL East
June 16:
Pirates, Indians and Marlins on move
June 8:
After Strasburg, no help for Nats
June 2:
Surprises for Reds, Padres and Jays
May 26:
Top billing for Rays, Twins and Phillies
May 19:
Bottoms up for O's, M's and Astros
Prospect Info
•
Keith Law's updated top 25 prospects (6/29)
•
Keith Law's updated top 25 prospects (5/18)
•
Law's Top 100 prospects (January)
•
Organization Rankings
•
MLB Draft Blog

MOST SENT STORIES ON ESPN.COM