Commentary
Org Watch: Nats, Marlins, Mets
Know these names: Lucas Duda, Matt Dominguez and yes, Bryce Harper
Originally Published:
September 1, 2010
By
Kevin Goldstein
| Baseball Prospectus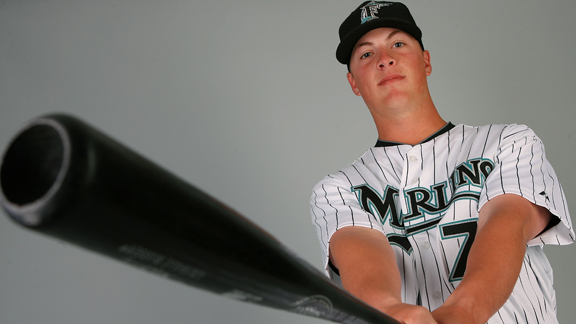 Getty ImagesMatt Dominguez could be a big bopper for the Marlins someday.
In the NL East, the Atlanta Braves and Philadelphia Phillies are battling for the division lead right now; both teams also have deep farm systems and are set up for success in the years to come.
That leaves the other three squads -- the New York Mets, Florida Marlins and Washington Nationals -- in a tough spot. We know the Nats just got Bryce Harper in the MLB draft (and lost Stephen Strasburg for 18 or so months). The Marlins promoted one of their better minor leagues, Logan Morrison, this season.
What does the future hold for these three squads as they try to catch up with the Braves and Phillies?
For the full report here, you need to be an ESPN Insider.
Insider
INSIDER TOP PROSPECTS WATCH
Insider's team of experts is watching the minor leagues carefully, following the top prospects and covering them from every angle.
Prospect Features
Oct. 4:
Goldstein: Minor league mirage stats
Sept. 27:
Minor league top performances
Sept. 20:
The All-Disappointing team
Sept. 14:
Law: Re-ranking the rookies of 2010
Sept. 13:
Minor league All-Star team
Sept. 10:
Grey: Top fantasy rookies for 2011
Sept. 7:
10-spot: Mark Prior is back
Sept. 3:
Dustin Ackley's defiant shift
August 23:
10 top pitchers due September calls
August 18:
Law's NL draft signings wrap
August 17:
Law's AL draft signings wrap
August 16:
Zach Britton looks good
August 9:
Watch for Oswaldo Arcia
August 2:
Prospects falling from grace
July 19:
10-spot: Call-ups for contenders
July 16:
Grey: Notes from the Futures Game
July 14:
Law: Vitek off to good start
July 12:
10-spot: Top trade prospects
July 11:
Grey: Brown developing fast
July 11:
Law: Trout impresses at Futures Game
July 10:
Law: Ranking the Futures Game
Goldstein's Organization Watch
September 29:
Nats, Red Sox, Braves
September 22:
Reds, Twins, Rangers
September 15:
Yankees' pitching
September 8:
Red Sox, Angels, Dodgers
September 1:
Nats, Marlins, Mets
August 25:
A's, Mariners, Angels
August 18:
Reds, Twins and Padres
August 11:
Indians, Cubs, Jays
August 4:
Royals, Pirates, Astros
July 28:
Mets, Dodgers and Red Sox
July 21:
A look at AL pitching depth
July 14:
Barren farm systems
July 7:
Making a match for Lee
June 30:
Updating the AL West
June 23:
Checking out the AL East
June 16:
Pirates, Indians and Marlins on move
June 8:
After Strasburg, no help for Nats
June 2:
Surprises for Reds, Padres and Jays
May 26:
Top billing for Rays, Twins and Phillies
May 19:
Bottoms up for O's, M's and Astros
Prospect Info
•
Keith Law's updated top 25 prospects (6/29)
•
Keith Law's updated top 25 prospects (5/18)
•
Law's Top 100 prospects (January)
•
Organization Rankings
•
MLB Draft Blog

MOST SENT STORIES ON ESPN.COM