Commentary
Off-Handedly
Lefty-on-lefty showdowns usually go to the pitcher, except when Joey Votto is up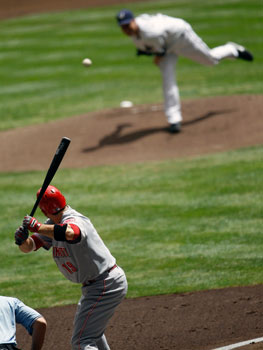 Peter LockleyVotto's 2010 OPS is 138 points higher against southpaws than the average lefty hitter.
The key to Joey Votto's success is on display during batting practice before a recent game against the Phillies. While many sluggers would use that time to give souvenirs to fans in the cheap seats, the Reds first baseman, a lefty hitter, takes a much more practical approach, calmly lining 10 of the first 11 pitches to center or left field.
To learn more about the unique way in which Joey Votto learned how to hit lefties, you need to be an ESPN Insider.
Insider
Senior writer for ESPN The Magazine
Joined ESPN in May 2007
ESPN The Magazine: September 06, 2010
Check out the content from ESPN The Magazine's September 06, 2010 issue -- the NFL Preview -- below.
Features

MOST SENT STORIES ON ESPN.COM