Commentary
Yankees on course for October (again)
Despite recent struggles, New York has a safe path to the postseason
As August dawned, the Yankees had owned sole possession of first place in the American League East for seven weeks, but the dog days are clearly upon them now. On Sunday, they fell victim to a two-hit shutout which provided 2002 first-pick flop Bryan Bullington of the Royals with his first major league victory. On Monday, they were held scoreless for eight innings before falling to the lowly Tigers, who came into the Bronx with a 9-22 record since the All-Star break. That loss gave the Yankees a 6-9 record for the month, and dropped them into a tie for first place with the Rays. Is their hold on a postseason spot secure?
The Yankees' playoff odds briefly topped an MLB-best 90 percent in late July, and stood an eyelash below that as of Aug. 1. After Monday's loss, those odds had fallen to 82.9 percent (46.1 percent division, 36.8 percent wild card), just the fourth-highest mark in the league behind the Rangers (96.7 percent), Twins (84.2 percent) and Rays (83.3 percent). While their run differential and third-order winning percentage are higher than those of Tampa Bay (plus-140 compared to plus-134, and .577 to .568, respectively), their remaining opponents have a slightly better record, averaging a 60-57 mark, compared to 58-59 for the Rays, which is why the odds slightly favor the latter.
To read about the Yankees current woes -- and how they should strategize for the playoffs -- you need to be an ESPN Insider.
ESPN The Magazine subscribers

Need more information?
SPONSORED HEADLINES
MORE MLB HEADLINES
MOST SENT STORIES ON ESPN.COM
Insider MLB Content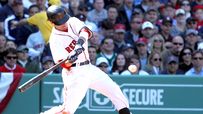 WEEK OF OCT. 30
Nov. 5:
Bowden: Grading the Jim Thome deal
Nov. 5:
Law: Thome, Phillies aren't a great fit
Nov. 4:
Bowden: Pricing the free agents
Nov. 3:
Law: Ranking top 50 MLB free agents
Nov. 2:
Jedlovec: Worst Gold Glove selections
Nov. 1:
Meyers: Buyer beware of C.J. Wilson
Oct. 31:
Cameron: Papi a fit in the Bronx
Oct. 30:
Perry: Finding free agency solutions
Oct. 30:
Szymborski: St. Louis without Pujols
WEEK OF OCT. 16
Oct. 28:
Law: Chapman still needs work
Oct. 26:
BP: Batter-pitcher data is overrated
Oct. 24:
FanGraphs: A blueprint for C.J. Wilson
Oct. 21:
Cameron: Cards should bench Berkman
Oct. 20:
BP: Why did Washington walk Punto?
Oct. 19:
Szymborski: Sims favor the Rangers
Oct. 18:
Bowden: Ranking all 50 WS players
Oct. 18:
Jedlovec: Previewing WS defenses
Oct. 17:
Perry: World Series hinges on relief
Oct. 16:
Szymborski: Milwaukee without Fielder
Oct. 16:
FanGraphs: Brewers' NLCS miscues
KISS 'EM GOODBYE
Oct. 30:
St. Louis Cardinals
Oct. 29:
Texas Rangers
Oct. 18:
Milwaukee Brewers
Oct. 17:
Detroit Tigers
Oct. 8:
Arizona Diamondbacks
Oct. 8:
Philadelphia Phillies
Oct. 7:
New York Yankees
Oct. 5:
Tampa Bay Rays
Sept. 29:
Atlanta Braves
Sept. 29:
Boston Red Sox
Sept. 27:
Los Angeles Angels
Sept. 26:
San Francisco Giants
Sept. 25:
Cleveland Indians
Sept. 24:
Chicago White Sox
Sept. 23:
Oakland A's
Sept. 22:
Los Angeles Dodgers
Sept. 21:
Colorado Rockies
Sept. 20:
Toronto Blue Jays
Sept. 19:
Cincinnati Reds
Sept. 18:
San Diego Padres
Sept. 17:
Pittsburgh Pirates
Sept. 16:
Kansas City Royals
Sept. 15:
Minnesota Twins
Sept. 14:
New York Mets
Sept. 13:
Washington Nationals
Sept. 12:
Seattle Mariners
Sept. 11:
Chicago Cubs
Sept. 10:
Baltimore Orioles
Sept. 9:
Florida Marlins
Sept. 8:
Houston Astros
ESSENTIAL LINKS