Commentary
Yankees on course for October (again)
Despite recent struggles, New York has a safe path to the postseason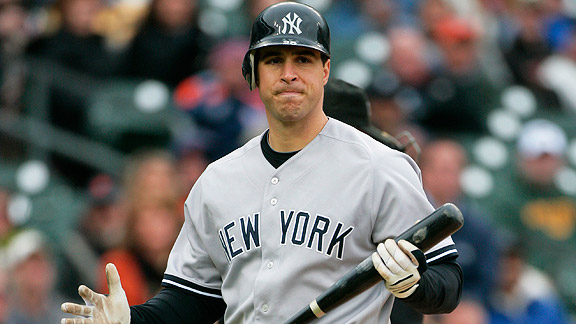 Getty ImagesDespite Mark Teixeira's career-low .252 average, the Yankees are a virtual lock for the playoffs.
As August dawned, the Yankees had owned sole possession of first place in the American League East for seven weeks, but the dog days are clearly upon them now. On Sunday, they fell victim to a two-hit shutout which provided 2002 first-pick flop Bryan Bullington of the Royals with his first major league victory. On Monday, they were held scoreless for eight innings before falling to the lowly Tigers, who came into the Bronx with a 9-22 record since the All-Star break. That loss gave the Yankees a 6-9 record for the month, and dropped them into a tie for first place with the Rays. Is their hold on a postseason spot secure?
The Yankees' playoff odds briefly topped an MLB-best 90 percent in late July, and stood an eyelash below that as of Aug. 1. After Monday's loss, those odds had fallen to 82.9 percent (46.1 percent division, 36.8 percent wild card), just the fourth-highest mark in the league behind the Rangers (96.7 percent), Twins (84.2 percent) and Rays (83.3 percent). While their run differential and third-order winning percentage are higher than those of Tampa Bay (plus-140 compared to plus-134, and .577 to .568, respectively), their remaining opponents have a slightly better record, averaging a 60-57 mark, compared to 58-59 for the Rays, which is why the odds slightly favor the latter.
To read about the Yankees current woes -- and how they should strategize for the playoffs -- you need to be an ESPN Insider.
Insider
EDITORS' PICKS
With the departure of Nelson Cruz, the Orioles need some familiar names to produce.
Jayson Stark »

Identifying spring training position battles and fantasy implications for each.
Story »

Will pitchers try to challenge Giancarlo Stanton with inside fastball?
Story »

MOST SENT STORIES ON ESPN.COM