Commentary
A building block for Buck Showalter
Zach Britton may be ready to start at Camden Yards now
Updated:
August 16, 2010, 10:52 AM ET
By
Kevin Goldstein
| Baseball Prospectus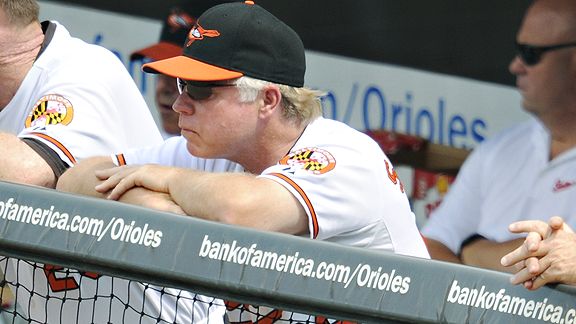 Rafael Suanes/US PresswireBuck Showalter is looking for young arms to help lead an Orioles revival.
In this week's 10-pack, you'll find out about a pitcher likely to see a September call-up for Buck Showalter, an Angel blazing his path in the Midwest League after top prospect Mike Trout departed, and a 29-year-old Cuban breaking into the prospect ranks.
Zach Britton, LHP, Baltimore Orioles (Triple-A Norfolk)
Britton delivered his best Triple-A start on Saturday, when the 22-year-old southpaw struck out nine over eight innings while giving up a run on five hits. It took only 93 pitches for Britton to record his 24 outs. His timetable continues to move up, with a September audition certainly in his sights. He arguably has the best pure sinker in the minor leagues, as capable of missing bats as it is generating ground balls -- but it's the overall improvement in his command and control that have him suddenly on the verge of the big leagues.
Kolbrin Vitek, 3B, Boston Red Sox (Short-season Lowell)
Small sample sizes are a dangerous thing, and they nearly always apply to this year's draft picks, even those that sign quickly and start playing. Going into the weekend, Vitek was scuffling to the tune of .241/.333/.368, and as a player who had his share of detractors heading into the draft, some thought his stock was already down. One 9-for-13 weekend and two home runs later and he's at a much more respectable .273/.358/.422. That's how much three days can affect a line, and why one needs much more than two months of stats to properly judge a pick. As for Vitek, he can hit, but he's not a middle infielder; his play at third base has been rough and he might just need to hit enough to fit in the outfield by the time his development is over.
For a look at prospects including Michael Choice, Kolbrin Vitek and Yunesky Maya, you must be an ESPN Insider.
Insider
INSIDER TOP PROSPECTS WATCH
Insider's team of experts is watching the minor leagues carefully, following the top prospects and covering them from every angle.
Prospect Features
Oct. 4:
Goldstein: Minor league mirage stats
Sept. 27:
Minor league top performances
Sept. 20:
The All-Disappointing team
Sept. 14:
Law: Re-ranking the rookies of 2010
Sept. 13:
Minor league All-Star team
Sept. 10:
Grey: Top fantasy rookies for 2011
Sept. 7:
10-spot: Mark Prior is back
Sept. 3:
Dustin Ackley's defiant shift
August 23:
10 top pitchers due September calls
August 18:
Law's NL draft signings wrap
August 17:
Law's AL draft signings wrap
August 16:
Zach Britton looks good
August 9:
Watch for Oswaldo Arcia
August 2:
Prospects falling from grace
July 19:
10-spot: Call-ups for contenders
July 16:
Grey: Notes from the Futures Game
July 14:
Law: Vitek off to good start
July 12:
10-spot: Top trade prospects
July 11:
Grey: Brown developing fast
July 11:
Law: Trout impresses at Futures Game
July 10:
Law: Ranking the Futures Game
Goldstein's Organization Watch
September 29:
Nats, Red Sox, Braves
September 22:
Reds, Twins, Rangers
September 15:
Yankees' pitching
September 8:
Red Sox, Angels, Dodgers
September 1:
Nats, Marlins, Mets
August 25:
A's, Mariners, Angels
August 18:
Reds, Twins and Padres
August 11:
Indians, Cubs, Jays
August 4:
Royals, Pirates, Astros
July 28:
Mets, Dodgers and Red Sox
July 21:
A look at AL pitching depth
July 14:
Barren farm systems
July 7:
Making a match for Lee
June 30:
Updating the AL West
June 23:
Checking out the AL East
June 16:
Pirates, Indians and Marlins on move
June 8:
After Strasburg, no help for Nats
June 2:
Surprises for Reds, Padres and Jays
May 26:
Top billing for Rays, Twins and Phillies
May 19:
Bottoms up for O's, M's and Astros
Prospect Info
•
Keith Law's updated top 25 prospects (6/29)
•
Keith Law's updated top 25 prospects (5/18)
•
Law's Top 100 prospects (January)
•
Organization Rankings
•
MLB Draft Blog

MOST SENT STORIES ON ESPN.COM