Commentary
Without Ordonez, time to look to 2011
The Tigers have too many problems to keep the focus on 2010 anymore
Originally Published:
August 4, 2010
By
Jay Jaffe
| Baseball Prospectus
In many ways, the Detroit Tigers' season ended July 24 when Magglio Ordonez broke his ankle while sliding into home plate in the third inning. A few innings later, Carlos Guillen departed with a severe enough calf strain to hit the disabled list as well, where he joined not only Ordonez but also Brandon Inge, who had suffered a fractured metacarpal the previous week. The devastation wrought by this injury stack left the Tigers with a lineup half-full of Triple-A fodder, one which was no-hit by Matt Garza two nights later.
The Tigers did look good early -- they spent much of the first half in second place, trailing the Minnesota Twins, then surpassed the Twins for a bit. Then, through Sunday, they lost 15 of 19 games, saw their playoff odds plummet, and are presently looking up at the Twins and the Chicago White Sox; they're seven games back in the AL Central.
Can they get back in this thing? All signs point to no.
If you're a Tigers fan, this might hurt -- but for the full breakdown, you need to be an ESPN Insider.
ESPN The Magazine subscribers

Need more information?
SPONSORED HEADLINES
MORE MLB HEADLINES
MOST SENT STORIES ON ESPN.COM
Insider MLB Content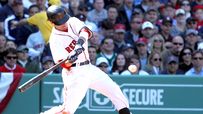 WEEK OF OCT. 30
Nov. 5:
Bowden: Grading the Jim Thome deal
Nov. 5:
Law: Thome, Phillies aren't a great fit
Nov. 4:
Bowden: Pricing the free agents
Nov. 3:
Law: Ranking top 50 MLB free agents
Nov. 2:
Jedlovec: Worst Gold Glove selections
Nov. 1:
Meyers: Buyer beware of C.J. Wilson
Oct. 31:
Cameron: Papi a fit in the Bronx
Oct. 30:
Perry: Finding free agency solutions
Oct. 30:
Szymborski: St. Louis without Pujols
WEEK OF OCT. 16
Oct. 28:
Law: Chapman still needs work
Oct. 26:
BP: Batter-pitcher data is overrated
Oct. 24:
FanGraphs: A blueprint for C.J. Wilson
Oct. 21:
Cameron: Cards should bench Berkman
Oct. 20:
BP: Why did Washington walk Punto?
Oct. 19:
Szymborski: Sims favor the Rangers
Oct. 18:
Bowden: Ranking all 50 WS players
Oct. 18:
Jedlovec: Previewing WS defenses
Oct. 17:
Perry: World Series hinges on relief
Oct. 16:
Szymborski: Milwaukee without Fielder
Oct. 16:
FanGraphs: Brewers' NLCS miscues
KISS 'EM GOODBYE
Oct. 30:
St. Louis Cardinals
Oct. 29:
Texas Rangers
Oct. 18:
Milwaukee Brewers
Oct. 17:
Detroit Tigers
Oct. 8:
Arizona Diamondbacks
Oct. 8:
Philadelphia Phillies
Oct. 7:
New York Yankees
Oct. 5:
Tampa Bay Rays
Sept. 29:
Atlanta Braves
Sept. 29:
Boston Red Sox
Sept. 27:
Los Angeles Angels
Sept. 26:
San Francisco Giants
Sept. 25:
Cleveland Indians
Sept. 24:
Chicago White Sox
Sept. 23:
Oakland A's
Sept. 22:
Los Angeles Dodgers
Sept. 21:
Colorado Rockies
Sept. 20:
Toronto Blue Jays
Sept. 19:
Cincinnati Reds
Sept. 18:
San Diego Padres
Sept. 17:
Pittsburgh Pirates
Sept. 16:
Kansas City Royals
Sept. 15:
Minnesota Twins
Sept. 14:
New York Mets
Sept. 13:
Washington Nationals
Sept. 12:
Seattle Mariners
Sept. 11:
Chicago Cubs
Sept. 10:
Baltimore Orioles
Sept. 9:
Florida Marlins
Sept. 8:
Houston Astros
ESSENTIAL LINKS