Commentary
The minor league 10-spot
Kenley Jansen could star out of the Dodgers' pen during the stretch run
Originally Published:
June 14, 2010
By
Kevin Goldstein
| Baseball Prospectus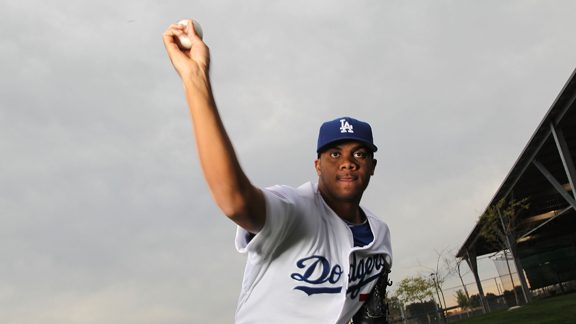 Getty ImagesKenley Jansen could be a flamethrower for the Dodgers this September as they battle for the NL West.
Each Monday, Kevin Goldstein of Baseball Prospectus focuses on 10 key players in the minor leagues.
Tim Collins, LHP, Toronto Blue Jays (Double-A New Hampshire)
If you are not at the very least entertained by Collins, then something may be wrong with your baseball-watching soul. He's a lefty reliever who can get it up to 94 mph with tons of deception. He hasn't allowed a hit in his last four appearances. He whiffed five of the ten batters he face over the weekend (53 overall in 31.1 IP) while limiting the Eastern League to a .190 batting average. Oh yea -- he's just 20 years old. So why isn't he talked about among some of the top relief prospects in the game? Because he's 5-foot-7, that's why. Actually, that's his listed height, and most think it's a bit kind. Still, production is production, and he's clearly produced at every level.
To get the next nine guys Kevin is focusing on, including two Rays, and reps from the Dogers, Brewers, Marlins, Reds and more, you must be an ESPN Insider.
Insider
KEITH LAW'S TOP 25 PROSPECTS

Law
The rankings are limited to players who still have rookie eligibility; that means they have yet to exceed 130 at-bats or 50 innings pitched in the majors and have not yet spent 45 days on the active roster of a major league club, excluding call-ups during the roster expansion period after Sept. 1.
Click on a player's name to go to his individual scouting report (from January, click above for updates):
| NO. | PLAYER |
| --- | --- |
| 1 | Stephen Strasburg, RHP, WAS |
| 2 | Carlos Santana, C, CLE |
| 3 | Buster Posey, C, SFO |
| 4 | Mike Stanton, OF, FLA |
| 5 | Desmond Jennings, OF, TAM |
| 6 | Martin Perez, LHP, TEX |
| 7 | Domonic Brown, RF, PHI |
| 8 | Dustin Ackley, CF, SEA |
| 9 | Jesus Montero, C, NYY |
| 10 | Aroldis Chapman, LHP, CIN |
| 11 | Jeremy Hellickson, RHP, TAM |
| 12 | Casey Kelly, RHP, BOS |
| 13 | Aaron Hicks, RHP, MIN |
| 14 | Mike Trout, OF, LAA |
| 15 | Brett Wallace, 1B, TOR |
| 16 | Logan Morrison, 1B, FLA |
| 17 | Zach Britton, LHP, BAL |
| 18 | Tyler Matzek, LHP, COL |
| 19 | Michael Taylor, OF, OAK |
| 20 | Kyle Gibson, RHP, MIN |
| 21 | Shelly Miller, RHP, STL |
| 22 | Josh Vitters, 3B, CHC |
| 23 | Eric Hosmer, 1B, KC |
| 24 | Lars Anderson,1B, BOS |
| 25 | Mike Moustakas, 3B, KC |

MOST SENT STORIES ON ESPN.COM