Commentary
Org Watch: Surprising starts
San Diego needs a system bat, but there isn't much there; Reds could get creative
Originally Published:
June 2, 2010
By
Kevin Goldstein
| Baseball Prospectus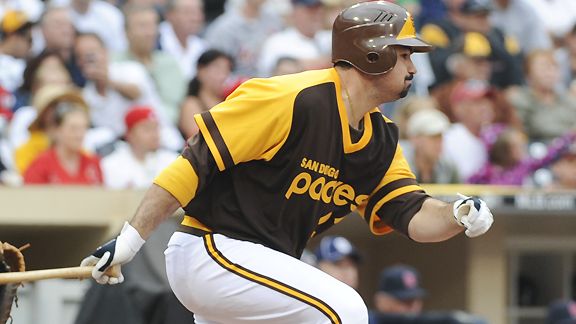 Getty ImagesThe Padres and Adrian Gonzalez need hitting help, but may have to go elsewhere to find it.
Each week, The Org Watch will take a look inside the minor league systems of three organizations. It will look at the progress of top, surprise and sleeper prospects, and see whether help that might be needed for the major league club can be found on the rosters of its minor league squads. After focusing on the three worst teams and then three of the best, on Wednesday we'll consider three of the most surprising.
• The San Diego Padres are off to an almost amazing start in the crowded NL West, but the one area where they really need help from their system -- hint: it involves hitting -- can't really be helped if the system is the answer.
• The Cincinnati Reds are getting it done with starting pitching and solid bats. Now they need to address a train wreck of a bullpen. Converting a couple starters might do the trick.
• The Toronto Blue Jays are competing in the AL East, and mashing the ball, even without much help from first base. And while Jays fans will point to the presence of a top first-base prospect, they may be eyeing fool's gold.
For Goldstein's take on which bats the Padres could eye, where Cincy will fix the pen, and Toronto's first baseman solution, become an ESPN Insider.
Insider
KEITH LAW'S TOP 25 PROSPECTS

Law
The rankings are limited to players who still have rookie eligibility; that means they have yet to exceed 130 at-bats or 50 innings pitched in the majors and have not yet spent 45 days on the active roster of a major league club, excluding call-ups during the roster expansion period after Sept. 1.
Click on a player's name to go to his individual scouting report (from January, click above for updates):
| NO. | PLAYER |
| --- | --- |
| 1 | Stephen Strasburg, RHP, WAS |
| 2 | Carlos Santana, C, CLE |
| 3 | Buster Posey, C, SFO |
| 4 | Mike Stanton, OF, FLA |
| 5 | Desmond Jennings, OF, TAM |
| 6 | Martin Perez, LHP, TEX |
| 7 | Domonic Brown, RF, PHI |
| 8 | Dustin Ackley, CF, SEA |
| 9 | Jesus Montero, C, NYY |
| 10 | Aroldis Chapman, LHP, CIN |
| 11 | Jeremy Hellickson, RHP, TAM |
| 12 | Casey Kelly, RHP, BOS |
| 13 | Aaron Hicks, RHP, MIN |
| 14 | Mike Trout, OF, LAA |
| 15 | Brett Wallace, 1B, TOR |
| 16 | Logan Morrison, 1B, FLA |
| 17 | Zach Britton, LHP, BAL |
| 18 | Tyler Matzek, LHP, COL |
| 19 | Michael Taylor, OF, OAK |
| 20 | Kyle Gibson, RHP, MIN |
| 21 | Shelly Miller, RHP, STL |
| 22 | Josh Vitters, 3B, CHC |
| 23 | Eric Hosmer, 1B, KC |
| 24 | Lars Anderson,1B, BOS |
| 25 | Mike Moustakas, 3B, KC |

MOST SENT STORIES ON ESPN.COM