Commentary
The 10 spot: Catching on
Blue Jays have found their future behind the plate in J.P. Arencibia
Updated:
May 31, 2010, 4:55 PM ET
By
Kevin Goldstein
| Baseball Prospectus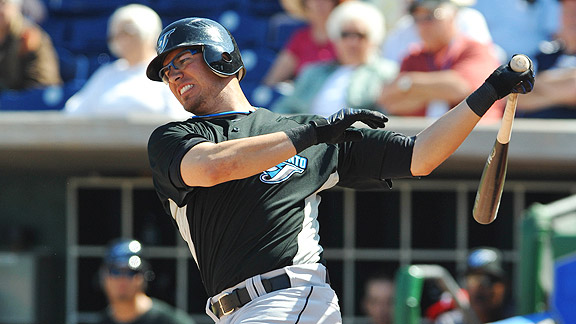 Al Messerschmidt/Getty ImagesArencibia, a former first-round pick, is a great building block for the Jays.
Each Monday, Kevin Goldstein of Baseball Prospectus focuses on 10 key players in the minor leagues. This week, the AL East has a lot to be happy about.
J.P. Arencibia, C, Toronto Blue Jays (Triple-A Las Vegas)
On a scouting level, there's little not to like about Arencibia. He was a first-round pick in 2007 for a reason, as he's a big, athletic catcher with well-above-average power. An impatient approach has been his undoing at Triple-A, but he's still capable of going on a hot streak, as he's gone 10-for-23 with three home runs over his past five games to raise his triple-slash line to .263/.312/.500. Twelve walks in 160 at-bats isn't exactly a ratio to write home about, but it is a significant upgrade from previous years. Expect the home-run-happy Jays to add another power bat as early as September, as Arencibia remains their long-term answer at the position.
To read about nine other players you should be keeping your eye on in the minors this week, including top prospects for the Yankees, Red Sox and Rays, you must be an ESPN Insider.
Insider
KEITH LAW'S TOP 25 PROSPECTS

Law
The rankings are limited to players who still have rookie eligibility; that means they have yet to exceed 130 at-bats or 50 innings pitched in the majors and have not yet spent 45 days on the active roster of a major league club, excluding call-ups during the roster expansion period after Sept. 1.
Click on a player's name to go to his individual scouting report (from January, click above for updates):
| NO. | PLAYER |
| --- | --- |
| 1 | Stephen Strasburg, RHP, WAS |
| 2 | Carlos Santana, C, CLE |
| 3 | Buster Posey, C, SFO |
| 4 | Mike Stanton, OF, FLA |
| 5 | Desmond Jennings, OF, TAM |
| 6 | Martin Perez, LHP, TEX |
| 7 | Domonic Brown, RF, PHI |
| 8 | Dustin Ackley, CF, SEA |
| 9 | Jesus Montero, C, NYY |
| 10 | Aroldis Chapman, LHP, CIN |
| 11 | Jeremy Hellickson, RHP, TAM |
| 12 | Casey Kelly, RHP, BOS |
| 13 | Aaron Hicks, RHP, MIN |
| 14 | Mike Trout, OF, LAA |
| 15 | Brett Wallace, 1B, TOR |
| 16 | Logan Morrison, 1B, FLA |
| 17 | Zach Britton, LHP, BAL |
| 18 | Tyler Matzek, LHP, COL |
| 19 | Michael Taylor, OF, OAK |
| 20 | Kyle Gibson, RHP, MIN |
| 21 | Shelly Miller, RHP, STL |
| 22 | Josh Vitters, 3B, CHC |
| 23 | Eric Hosmer, 1B, KC |
| 24 | Lars Anderson,1B, BOS |
| 25 | Mike Moustakas, 3B, KC |

MOST SENT STORIES ON ESPN.COM