Commentary
Org Watch: Nowhere but up
Baltimore has young talent, but no hitting help. Seattle and Houston are also a mess.
Originally Published:
May 19, 2010
By
Kevin Goldstein
| Baseball Prospectus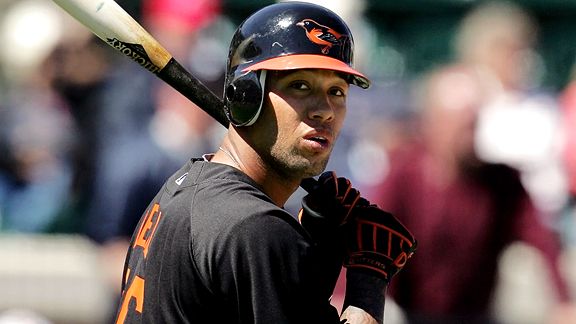 Getty ImagesJosh Bell was supposed to be a top hitting prospect for Baltimore. But he's not hitting, and there's nothing else in the pipeline.
Each week, The Org Watch will take a deep look inside the minor league systems of three organizations. It will look at the progress of top, surprise and sleeper prospects and see whether help that may be needed for the major league club can be found within the rosters of its minor league squads. Today, we start at the bottom with the three worst records in baseball.
• The Baltimore Orioles have some young pitching talent already starting to perform at the major league level, but where their runs will come from over the next handful of years -- at least from the system -- is a mystery.
• The Houston Astros have an aging lineup that could find a lot of the top talent with anything left in the tank -- Roy Oswalt, Lance Berkman -- on the trade market. Too bad the system offers little help, and potentially for a while.
• The Seattle Mariners are all about run prevention, but their opponents are finding that concept particularly easy. Even Dustin Ackley, the surest of bats, isn't hitting. Where has this system gone wrong?
For Goldstein's take on where the Orioles' system is lacking, the trouble with the Astros pipeline, and questions about Dustin Ackley's growth in Seattle, become an ESPN Insider.
Insider
KEITH LAW'S TOP 25 PROSPECTS

Law
The rankings are limited to players who still have rookie eligibility; that means they have yet to exceed 130 at-bats or 50 innings pitched in the majors and have not yet spent 45 days on the active roster of a major league club, excluding call-ups during the roster expansion period after Sept. 1.
Click on a player's name to go to his individual scouting report (from January, click above for updates):
| NO. | PLAYER |
| --- | --- |
| 1 | Stephen Strasburg, RHP, WAS |
| 2 | Carlos Santana, C, CLE |
| 3 | Buster Posey, C, SFO |
| 4 | Mike Stanton, OF, FLA |
| 5 | Desmond Jennings, OF, TAM |
| 6 | Martin Perez, LHP, TEX |
| 7 | Domonic Brown, RF, PHI |
| 8 | Dustin Ackley, CF, SEA |
| 9 | Jesus Montero, C, NYY |
| 10 | Aroldis Chapman, LHP, CIN |
| 11 | Jeremy Hellickson, RHP, TAM |
| 12 | Casey Kelly, RHP, BOS |
| 13 | Aaron Hicks, RHP, MIN |
| 14 | Mike Trout, OF, LAA |
| 15 | Brett Wallace, 1B, TOR |
| 16 | Logan Morrison, 1B, FLA |
| 17 | Zach Britton, LHP, BAL |
| 18 | Tyler Matzek, LHP, COL |
| 19 | Michael Taylor, OF, OAK |
| 20 | Kyle Gibson, RHP, MIN |
| 21 | Shelly Miller, RHP, STL |
| 22 | Josh Vitters, 3B, CHC |
| 23 | Eric Hosmer, 1B, KC |
| 24 | Lars Anderson,1B, BOS |
| 25 | Mike Moustakas, 3B, KC |

MOST SENT STORIES ON ESPN.COM