Commentary
NEXT No. 4: Stephen Strasburg
Strasburg is handling the pressure, thanks to a little help from a friend
Updated:
December 3, 2009, 7:31 AM ET
By
Ryan McGee
| ESPN The Magazine
This story appears in the Dec. 14 issue of ESPN The Magazine.
NEXT 2010 content: No. 1 Kevin Durant | No. 2 Chris Johnson | No. 3 John Wall | No. 4 Stephen Strasburg | No. 5 Melanie Oudin | No. 6-10 | No. 11-15 | No. 16-20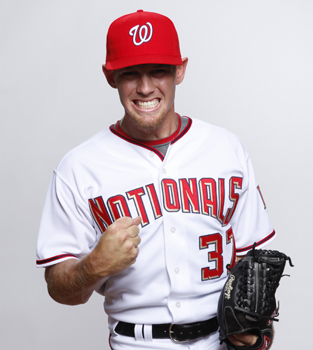 Dan Monick for ESPN The Magazine
Stephen Strasburg and Drew Storen, The Ace and The Closer, sit side-by-side in an empty concrete dugout at Phoenix Municipal Stadium. A few hundred feet away, a lone groundskeeper pounds the dirt around home plate with a slap-slap-slap that echoes off the vacant grandstands. The last wisps of daylight are beginning to fade over Estrella Mountain, to the west, and the desert chill is rolling in from the east. "Well, here we are," Strasburg says with a smile as the two of them kick back, having traded in their Washington Nationals jerseys for T-shirts and jeans. "What do you think? Do we look like a couple of big league saviors?"
Honestly? No. Here in the Arizona Fall League, where MLB teams send their top prospects to fine-tune their way into winter, Strasburg and Storen look more like a couple of Arizona State undergrads who've wandered in from nearby Tempe. But 2,300 miles away, in another empty stadium, Nationals Park in Washington, D.C., a front office full of baseball men know better. At least they hope they do. They've looked into the future of their franchise and chosen these two, The Ace and The Closer, to lead the Nats out of the wilderness. "But admit it -- you know a lot more about him than you do about me," Storen says with a glance toward his present and future teammate. "It's okay to admit it. Hey, you want me to get his autograph for you?"
When the players laugh, the groundskeeper suddenly realizes he has company. He looks over, then runs across the field to fire up the stadium lights. "Every player sent to the AFL is supposed to be a big deal," the man says later. "But these two? Everyone tells me these two are a really, really big deal. Sure things. The kind of guys you don't make sit in the dark."
To learn more about how Drew Storen is helping Stephen Strasburg handle the pressure, you must be an ESPN Insider.
Insider
ESPN The Magazine, NASCAR
ESPN The Magazine senior writer
2-time Sports Emmy winner
2010, 2014 NMPA Writer of the Year

Together they weigh 975 pounds and stand nearly 31 feet tall. They've claimed dozens of awards and banked millions of dollars (well, except for the college freshman). They've teed up highlights and appeared more than 150 million times on Google. And, crazy as it sounds, they're just getting started. That's why ESPN The Magazine has named the following five athletes NEXT finalists.

MOST SENT STORIES ON ESPN.COM