Commentary
The unique value of October baseball
They happen every year, but the playoffs never cease to be special
Updated:
October 2, 2009, 4:08 PM ET
By
Buster Olney
| ESPN The Magazine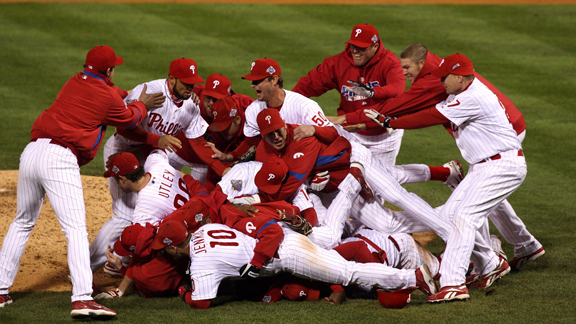 Getty ImagesThis never gets old.
This column appears in the October 5 issue of ESPN The Magazine.
This time of year -- the homeestretch of another grueling pennant race -- clubhouse chatter inevitably turns to the postseason. With the end prize at long last in sight, the ghosts of playoffs past -- better known as guys who have made it through a series or two -- share their tales. And when they do, Randy Winn can only listen.
The San Francisco Giants outfielder has played 12 seasons, about 1,600 games, more than any other active player who has never reached the playoffs. But with the NL wild card up for grabs, that could finally change. "When you are a kid, you dream about playing in the big leagues," Winn says. "But once you get drafted, you dream about the postseason."
And when you do, you wonder if it will feel any different from every other time you've stepped on the diamond. The ghosts of October have the answer.
What they would tell Winn is this: The postseason is more intense than you can imagine. "Your heartbeat is going 15 times faster than it usually does," says Kevin Millar, who first reached the postseason in 2003 with the Red Sox. "Believe me, experience is not overrated; experience is huge. It helps you get your heart rate down, which is why guys like Derek Jeter stand out. They don't get overwhelmed."
To read some more culled Buster Olney playoff anecdotes from decades of covering baseball, you must be an ESPN Insider.

To continue reading this article you must be an Insider
Insider
Senior Writer, ESPN The Magazine
Senior writer ESPN Magazine/ESPN.com
Analyst/reporter ESPN television
Author of "The Last Night of the Yankee Dynasty"
ESPN The Magazine: October 5 issue

Check out all the content from ESPN The Magazine's October 5 issue. The majority of the below is for ESPN Insiders.
October 5 Issue

MOST SENT STORIES ON ESPN.COM