BP Daily: Raul Ibanez's resurgence
The Phillies outfielder is raking this year. See how Mother Nature is helping him
Originally Published:
June 16, 2009
By
Marc Normandin
and
John Perrotto
| Baseball Prospectus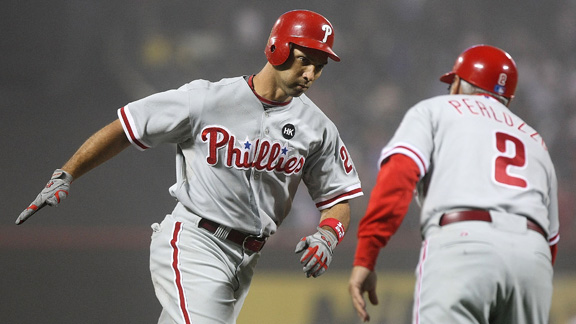 Nick Laham/Getty ImagesRaul Ibanez is tied for the major league lead with 22 home runs.
Although it is no surprise that Raul Ibanez has seen a boost in production because of his move from the American League to the weaker National League, his first two-plus months have been far better than anyone could have imagined. Ibanez's line stands at .322/.380/.678 (batting average/on-base percentage/slugging percentage) with 22 home runs, just one fewer than he hit all last year and only 11 off his previous career high from 2006. Despite turning 37 years old earlier this month, he is in the midst of the best season of his career and more than likely will finish the year that way even if he reverts to his career norms. That last point is the central question regarding Ibanez, though: What exactly should we expect out of him at the plate for the remainder of the season?
Taking a look at his batted-ball data reveals little. He's not hitting as many line drives as he normally does (just 15.3 percent so far), but he is sustaining a high rate of success on the ones he hits (.806/.784/1.222). He's hitting a few more grounders and fly balls instead, but neither figure has seen that substantial an increase. The lone number that looks out of place here is his home run/fly-ball ratio, as 25.6 percent of his fly balls this season are turning into jacks that end up in the seats, a figure that's more than 9 percentage points higher than his career-high rate. This is the key to Ibanez's season, as a fluctuating HR/FB rate across a small sample can make a player look better or worse than he actually is.
To continue reading this article you must be an Insider
Insider
BASEBALL PROSPECTUS ON ESPN INSIDER
Baseball Prospectus brings its unique brand of baseball analysis to ESPN Insider.

Week of Sept. 7
Week of Aug. 31
Week of Aug. 24
Week of Aug. 17
Week of Aug. 10
Week of Aug. 3

MOST SENT STORIES ON ESPN.COM