Commentary
BP Daily: The Pirates can't win for losing
A veteran beat writer reflects on Pittsburgh's 16 years of breathtakingly bad moves
Originally Published:
May 22, 2009
By
John Perrotto
| Baseball Prospectus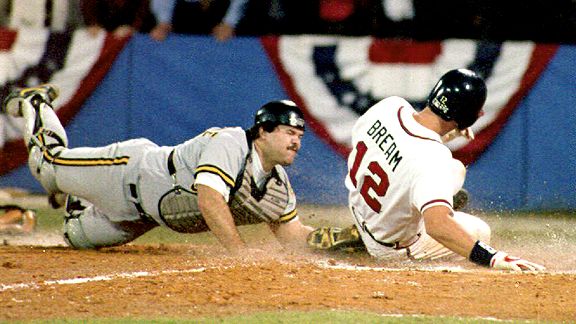 Robert Sullivan/AFP/Getty ImagesThe slide that began the Pirate's slide: Sid Bream just beats Barry Bond's throw from left field to carry the Braves over the Pirates in Game 7 of the '92 NLCS.
The Pirates had just returned home from an eight-game losing streak last week. The usual gaggle of scouts could be found sitting in the seats behind home plate at PNC Park, watching the home team face the Cardinals. The skid had dropped the Pirates seven games under .500 and seemingly put them on their way to a 17th consecutive losing season, which would break their tie with the 1933 to 1948 Philadelphia Phillies for the longest stretch of sustained futility in major American professional sports history.
Among the scouts watching that night were Cam Bonifay, working for the Reds, Dave Littlefield, working for the Cubs, and Roy Smith, working for the Blue Jays. This was more than a little ironic. Bonifay took over for Ted Simmons as the Pirates' general manger midway through the 1993 season. Littlefield replaced Bonifay midway through the 2001 season and stayed on the job until being fired late in the 2007 season. Smith served as the assistant GM under both Bonifay and Littlefield. Thus, nobody has been more responsible for all the losing, which began in '93, than this trio.
To continue reading this article you must be an Insider
Insider
BASEBALL PROSPECTUS ON ESPN INSIDER
Baseball Prospectus brings its unique brand of baseball analysis to ESPN Insider.

Week of Sept. 7
Week of Aug. 31
Week of Aug. 24
Week of Aug. 17
Week of Aug. 10
Week of Aug. 3

MOST SENT STORIES ON ESPN.COM