Commentary
Updating the Top 25 MLB prospects
Some prospects have 'graduated,' like Strasburg and Santana. Here's the new group.
Originally Published:
June 29, 2010
By
Keith Law
| ESPN Scouts Inc.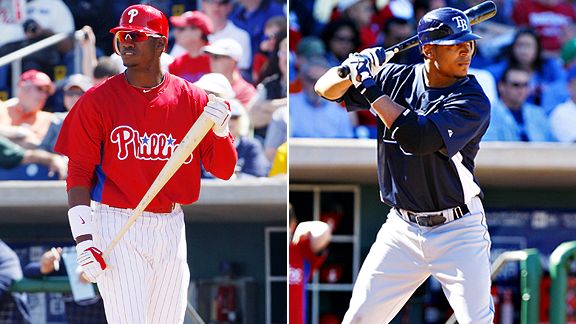 Getty ImagesAfter the graduation of Strasburg and Posey, the stage is set for Brown and Jennings.
It is time for the second in-season update to the rankings of the top prospects currently in the minor leagues. Graduates from the previous list include Stephen Strasburg (1), Carlos Santana (2) and Buster Posey (3) -- all of whom are performing very well in the majors right now -- and Mike Stanton (4), who's struggling with contact (29 whiffs in 71 PA) in his brief time in the majors. (The preseason Top 100 also has been mined heavily for MLB players.)
Some of the names here would not ordinarily merit inclusion in a postseason Top 25 ranking, but we've had many graduations without an influx of new talent into the minors. By the next update, however, we'll have more 2010 draftees in the mix, so some players you see here could be pushed down or even pushed off by the addition of players such as Bryce Harper or Christian Colon.
To see a number of the surprise additions to Keith Law's new Top 25, you must be an ESPN Insider.
Insider
INSIDER TOP PROSPECTS WATCH
Insider's team of experts is watching the minor leagues carefully, following the top prospects and covering them from every angle.
Prospect Features
Oct. 4:
Goldstein: Minor league mirage stats
Sept. 27:
Minor league top performances
Sept. 20:
The All-Disappointing team
Sept. 14:
Law: Re-ranking the rookies of 2010
Sept. 13:
Minor league All-Star team
Sept. 10:
Grey: Top fantasy rookies for 2011
Sept. 7:
10-spot: Mark Prior is back
Sept. 3:
Dustin Ackley's defiant shift
August 23:
10 top pitchers due September calls
August 18:
Law's NL draft signings wrap
August 17:
Law's AL draft signings wrap
August 16:
Zach Britton looks good
August 9:
Watch for Oswaldo Arcia
August 2:
Prospects falling from grace
July 19:
10-spot: Call-ups for contenders
July 16:
Grey: Notes from the Futures Game
July 14:
Law: Vitek off to good start
July 12:
10-spot: Top trade prospects
July 11:
Grey: Brown developing fast
July 11:
Law: Trout impresses at Futures Game
July 10:
Law: Ranking the Futures Game
Goldstein's Organization Watch
September 29:
Nats, Red Sox, Braves
September 22:
Reds, Twins, Rangers
September 15:
Yankees' pitching
September 8:
Red Sox, Angels, Dodgers
September 1:
Nats, Marlins, Mets
August 25:
A's, Mariners, Angels
August 18:
Reds, Twins and Padres
August 11:
Indians, Cubs, Jays
August 4:
Royals, Pirates, Astros
July 28:
Mets, Dodgers and Red Sox
July 21:
A look at AL pitching depth
July 14:
Barren farm systems
July 7:
Making a match for Lee
June 30:
Updating the AL West
June 23:
Checking out the AL East
June 16:
Pirates, Indians and Marlins on move
June 8:
After Strasburg, no help for Nats
June 2:
Surprises for Reds, Padres and Jays
May 26:
Top billing for Rays, Twins and Phillies
May 19:
Bottoms up for O's, M's and Astros
Prospect Info
•
Keith Law's updated top 25 prospects (6/29)
•
Keith Law's updated top 25 prospects (5/18)
•
Law's Top 100 prospects (January)
•
Organization Rankings
•
MLB Draft Blog

MOST SENT STORIES ON ESPN.COM