Commentary
A decade's worth of decisions
A look back at the best and worst free-agent signings, prospects and trades
Originally Published:
December 22, 2009
By
Keith Law
| Scouts Inc.
Best free-agent signing

Ortiz
David Ortiz, Red Sox, one year, $1.25 million, 2003
: Ortiz didn't file for free agency after a 2002 season in which he slugged .500 for the Twins in 125 games, because he wasn't eligible for free agency yet. The Twins didn't like the idea of going through arbitration with him and instead released him a few days before the non-tender deadline. The Red Sox happened to have an opening at DH and an affinity for guys like Ortiz who hit for power and controlled the zone, so they gave him an almost riskless contract for just one year; if his knee acted up again as it did in 2002, or he didn't perform up to expectations, he was barely making a dent in their budget and was playing a position that's relatively easy to fill, but if he performed, the Red Sox controlled his rights into 2004. Ortiz hit .288/.369/.592 with his new club, as the Red Sox gave him playing time and encouraged him to swing away instead of focusing on contact, and he topped those slash stats in each of the following four years as the Red Sox won two World Series with his help.
To continue reading this article you must be an Insider
Insider
BASEBALL'S BEST AND WORST OF THE DECADE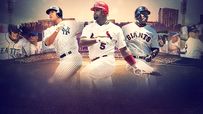 Monday, Dec. 14
Tuesday, Dec. 15
Wednesday, Dec. 16
Thursday, Dec. 17
Friday, Dec. 18
Saturday, Dec. 19
Monday, Dec. 21
Tuesday, Dec. 22
Wednesday, Dec. 23

MOST SENT STORIES ON ESPN.COM