Perceptions of history are slippery
Originally Published:
May 29, 2006
By
Gary Gillette
| ESPN Insider
Barry Bonds
has hit home run No. 715, passing "The Sultan of Swat" and taking sole possession of second place on the all-time list. Now he continues his pursuit of Hank Aaron and No. 756 -- the most important record in professional sports.
Congratulations. Sincerely, congratulations. Frankly, the hysteria displayed by both the fans and the media over Bonds' pursuit of the The Babe's and Hammerin' Hank's magical numbers has been truly revolting.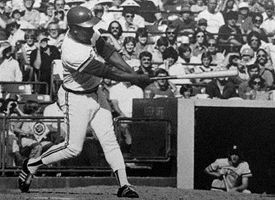 AP PhotoHank Aaron also holds the major-league record for RBI (2,297) and was named to 24 All-Star squads.
Regardless of what Bonds has done, regardless of whether he cheated to achieve the record, regardless of whatever performance-enhancing drugs he might have ingested or injected, the past few weeks have been as close to a witch hunt as America has seen since Salem, Mass., was a member of the colonial big leagues in the 17th century.
To continue reading this article you must be an Insider
Insider
ESPN.com MLB insider contributor
Gary Gillette, a contributor to MLB Insider on ESPN.com, is the editor of the 2006 ESPN Baseball Encyclopedia, which was published in March by Sterling. Gary can be reached via e-mail at GGillette@247Baseball.com.
715: Bonds Passes The Babe
Related Stories
• Gillette: End the witch hunt

• Shea: Bonds puts Babe in rearview mirror
• Kurkjian: Bonds' tumultuous journey to 715
• Bonds hits No. 715 to pass Ruth
• Experts: Barry's chances of catching Aaron?
• Quiz: How well do you know the No. 2 players?
• Rank 'Em: Top 10 HR hitters of all time?
• Fan nabs No. 715 standing in concession line
• 'Witnessing history': Piazza, others react
• Giants' radio call dies as 715 flies
• Chasing Aaron

Related Motion
• Bonds blasts homer No. 715

• Baseball Tonight reacts

• Bonds' press conference

• Fan grabs a piece of history


No. 714
• Caple: Long way to 755
• Neyer: Nobody can replace The Babe

• Experts: Rating the accomplishment
• Vote: Does Bonds catching Ruth matter?
• Mailbag: Your thoughts on Bonds' 714th

Before 714
• Stark: We won't forget Ruth

• Caple: "Babe on Babe"
• Crasnick: Super-sized No. 713
• Bonds uncertain about '07

Related Motion
• The Bambino and the media

MOST SENT STORIES ON ESPN.COM