Commentary
Defining success for losers
Even also-rans can have a productive season if they find some long-term solutions
Updated:
March 3, 2012, 9:41 AM ET
By
Dave Cameron
| FanGraphs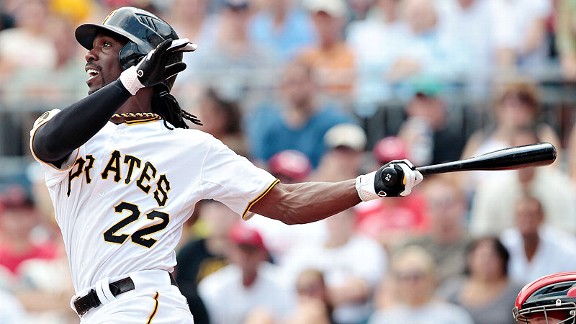 Jared Wickerham/Getty ImagesA good year in Pittsburgh more likely involves an Andrew McCutchen extension than a pennant.
Despite spring proclamations of hope and what could be possible, not every team has a serious chance of capturing the World Series title this year. For some clubs, the lack of talent on the field makes that an unrealistic goal for 2012. However, that doesn't mean that they can't have a successful season, especially if they set their sights on things that they can accomplish this year. So, let's take a look at outcomes for nine expected non-contenders that would make 2012 a worthwhile campaign, even if it doesn't end with a run at the playoffs.
Baltimore Orioles: Get their young arms figured out
The Orioles' group of highly rated young arms have gone off the tracks, with Brian Matusz, Chris Tillman, and Zach Britton all struggling to turn their minor league success into solid major league performances.

Their starters ended 2011 tied with Pittsburgh for the fewest wins above replacement for any team in baseball (5.7), and they traded rotation stalwart Jeremy Guthrie over the winter. While the Orioles have a few good young position players in the organization, they desperately need to develop a couple of quality starting pitchers. Britton has shown the most promise, but for the organization to take a step forward, they'll need Matusz to rebound or free-agent signing Wei-Yin Chen to blossom into a quality starter. If they can get good performances and full healthy seasons out of two of those three starters, they'll finally have the foundation of a real rotation in place for the future.
Oakland Athletics: Define the outfield
To read more about how these non-contenders can still have a successful season, become an ESPN Insider.
Insider
Managing editor of FanGraphs
Founder of U.S.S. Mariner
Also contributes to Wall Street Journal
Spring Fever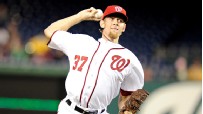 Stephen Strasburg is at the center of any conversation about the 2012 season ... and beyond.
Future Power Rankings
Buster, Bowden and Law break down how well your team is set up for the future.
Part 1: No. 30-21
Part 2: No. 20-11
Part 3: No. 10-1
Audio: Shocks and surprises
Future Power Rankings methodology
Keith Law's top prospects
Features
March 30:
Szymborski: AL standings
|
NL
March 29:
BP: Four fading Phillies
March 27:
Szymborski: Five non-flukes
March 26:
Cameron: Top 500's underachievers
March 23:
Cameron: Will Strasburg be the same?
March 22:
BP: Smoak underrated by Safeco
March 21:
Szymborski: The next Bautista
March 19:
Cameron: Controlling Bryce's price
March 15:
Goldstein: Prospects making waves
March 15:
BP: Who's starting the wrong guy?
March 12:
Cameron: Tribe's nasty rotation
March 10:
Lindbergh: Sale a good bet to succeed

MOST SENT STORIES ON ESPN.COM