Commentary
A case for the Nationals
If you think Washington is a year or two away, think again
Originally Published:
February 10, 2012
By
Dayn Perry
| FanGraphs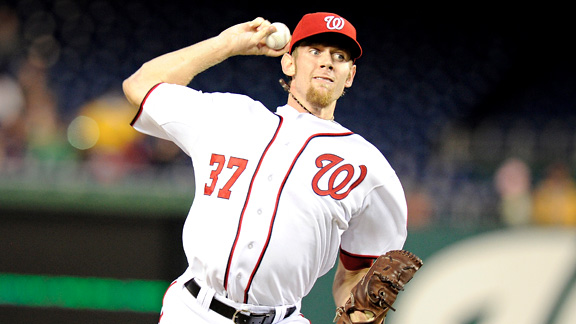 Greg Fiume/Getty ImagesThe Nats won 80 games in 2011 even though ace Stephen Strasburg was out for most of the year.
The Washington Nationals, despite the media linking them to almost every high-dollar free agent, have had a somewhat quiet winter. As such, it's tempting to dismiss them. After all, an 80-win team whose primary offseason signing is a Type-B free agent (Edwin Jackson) isn't redolent of "contender." In the Nats' case, however, that's precisely what they are: a contender.
To be sure, the Nats can't be considered a favorite for a playoff berth, in part because they have the misfortune of playing in a division in which only one team -- the Mets -- can be brushed aside as a non-factor. But they're in the fray, which is more than can be said for their status in recent franchise history.
In 2011, the Nationals, as mentioned, notched 80 wins. However, their team WAR totals (i.e., hitting and fielding WAR totals for position players + WAR for pitchers + the 43.0 WAR that constitutes the replacement-level team) show they have the underlying indicators of a "true" 77-win team. That means their foundation for 2012 might be a little shakier than you might think.
That said, the Nats are to be taken seriously, and their rotation depth has much to do with it. After all, Washington had a fairly enviable starting five even before adding the underrated Jackson and Gio Gonzalez (via trade).
To read more about what needs to go right for the Washington Nationals, sign up for Insider today.
Insider
Offseason Buyer's Guide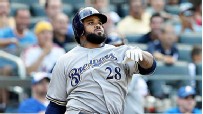 Prince Fielder headlines the 2011 free agent class, but who are the other players who could be changing teams this winter?
Rankings
Nov. 3:
Law: Top 50 free agents
|
Tracker
Nov. 4:
Bowden: Projected value rankings
Reaction
Jan. 25:
Bowden: How Detroit landed Prince
Jan. 24:
Law: Fielder helps now, not later
Jan. 14:
Bowden: Grading Yankees-M's deal
Jan. 13:
Law: Pineda-Montero deal a win-win
Jan. 11:
Law: Madson a steal for Reds
Jan. 6:
Law: Cubs win Cashner-Rizzo deal
Dec. 31:
Law: Quentin a mediocre fit in S.D
Buyer's Guide
Nov. 12:
Buyers Guide: Catchers
Nov. 11:
Buyers Guide: Relief Pitchers
Nov. 10:
Buyers Guide: Starting Pitchers
Nov. 9:
Buyers Guide: Third basemen
Nov. 8:
Buyers Guide: Outfielders
Nov. 7:
Buyers Guide: Middle infielders
Nov. 4:
Buyers Guide: First basemen/DH
Features
Feb. 9:
Perry: A case for the Nats
Feb. 7:
Szymborski: Ellsbury to fall off
Feb. 6:
Cameron: The cost of moving to third
Feb. 3:
Meyers: Poor drafts doom Cubs, Mets
Feb. 2:
Bowden: How to rebuild the Orioles
Feb. 1:
Goldstein: How good is Cespedes?
Jan. 30:
Szymborski: Projecting Angels, Tigers
History
•
Law: 2010 top 50 rankings
•
Law: 2009 top 50 rankings
•
Law: 2008 top 50 rankings
•
Law: 2007 top 50 rankings
•
Law: 2006 top 40 rankings

MOST SENT STORIES ON ESPN.COM