Commentary
Coming back to earth
Projecting last season's overachievers, who may struggle to have the same numbers
Updated:
February 7, 2012, 1:22 PM ET
By
Dan Szymborski
| Baseball Think Factory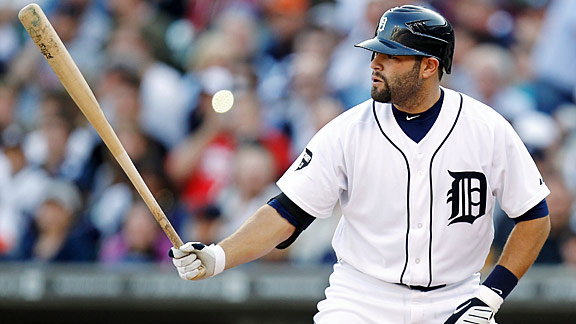 Gregory Shamus/Getty ImagesAlex Avila's 2011 numbers weren't a fluke, but he may struggle to match them this season.
In some ways, a giant season from an unexpected source can be a double-edged sword. While getting a lot more out of a player than you expect going into a season is a great way to amass a bunch of juicy extra wins, predicting what comes next can be a maddening challenge. Whether you're a general manager of a major league team with a $100 million payroll or a general manager of a fantasy baseball team, setting expectations for players after an overachieving season can make or break you down the road.
Previously, we looked at the players who most underperformed their 2011 ZiPS projections last season to get a look at how they will do in 2012. Now we look at the flip side of the coin: the players who most exceeded their projections.
---

2011 Projected OPS: .685
Actual OPS: .895
More than any of the other hitters on this list, Avila's star season came truly out of nowhere. Between ZiPS and the fans surveyed by FanGraphs (.706 OPS), he was generally seen as a young catcher who could continue to fill the role adequately and was a quick learner with the glove. Instead of being merely adequate and accomplishing what Gerald Laird was supposed to in Detroit (and didn't), Avila put up a good season -- by Johnny Bench standards.
To read about more 2012 regression candidates, plus get all of ESPN Insider's daily MLB content, sign up for Insider today.
Insider
Creator of ZiPS projection system
Founder of Baseball Think Factory
Offseason Buyer's Guide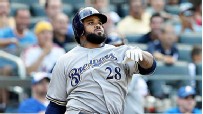 Prince Fielder headlines the 2011 free agent class, but who are the other players who could be changing teams this winter?
Rankings
Nov. 3:
Law: Top 50 free agents
|
Tracker
Nov. 4:
Bowden: Projected value rankings
Reaction
Jan. 25:
Bowden: How Detroit landed Prince
Jan. 24:
Law: Fielder helps now, not later
Jan. 14:
Bowden: Grading Yankees-M's deal
Jan. 13:
Law: Pineda-Montero deal a win-win
Jan. 11:
Law: Madson a steal for Reds
Jan. 6:
Law: Cubs win Cashner-Rizzo deal
Dec. 31:
Law: Quentin a mediocre fit in S.D
Buyer's Guide
Nov. 12:
Buyers Guide: Catchers
Nov. 11:
Buyers Guide: Relief Pitchers
Nov. 10:
Buyers Guide: Starting Pitchers
Nov. 9:
Buyers Guide: Third basemen
Nov. 8:
Buyers Guide: Outfielders
Nov. 7:
Buyers Guide: Middle infielders
Nov. 4:
Buyers Guide: First basemen/DH
Features
Feb. 9:
Perry: A case for the Nats
Feb. 7:
Szymborski: Ellsbury to fall off
Feb. 6:
Cameron: The cost of moving to third
Feb. 3:
Meyers: Poor drafts doom Cubs, Mets
Feb. 2:
Bowden: How to rebuild the Orioles
Feb. 1:
Goldstein: How good is Cespedes?
Jan. 30:
Szymborski: Projecting Angels, Tigers
History
•
Law: 2010 top 50 rankings
•
Law: 2009 top 50 rankings
•
Law: 2008 top 50 rankings
•
Law: 2007 top 50 rankings
•
Law: 2006 top 40 rankings

MOST SENT STORIES ON ESPN.COM