Commentary
Bounceback candidates for 2012
Projecting how 2011's most disappointing players will fare this season
Updated:
January 23, 2012, 11:31 AM ET
By
Dan Szymborski
| Baseball Think Factory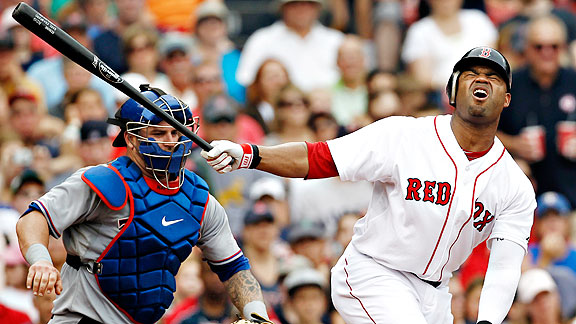 AP Photo/Winslow TownsonCarl Crawford had an exasperating year at the plate in 2011. Will 2012 be better?
When you do a lot of work with projections and make a lot of predictions, one of the hardest things to get used to is the amount of times you'll get things completely wrong. Every year, there is a handful of players for whom events don't even out and they end up missing their projections by a mile. There are a lot of reasons for a player to be disappointing, from mechanical flaws to injuries to the most frustrating reason: "dunno."
Looking back at the 2011 ZiPS projections, we thought we'd take a look at who failed to meet their projections by the biggest margins, examine what went wrong and look ahead to the 2012 season.
---

Projected OPS: .922
Actual OPS: .569
It seemed like a match made in heaven: one of the most consistent sluggers in baseball getting to DH and play in a solid hitters' park. It didn't quite work out that way, with Dunn missing his projection by a greater margin than any player ZiPS has projected in the last decade.
The only consolation is that while there were good reasons to not be confident about Dunn down the road, nobody really saw a top slugger like Dunn slugging .277 when he was 31.
Going forward, it's hard to have any faith in Dunn. A decline of this magnitude is almost entirely unprecedented in baseball history. Without Dunn having lost an arm or something similar before the 2011 season, there's no easy explanation for his downfall. Dunn could come back in 2012, but after last season, both the White Sox and fantasy owners need to be skeptical. Even if Dunn has a major comeback, it's going to be mostly in the form of home runs.
2012 projection: .209/.340/.429, 26 HR, 76 RBIs
---
To read the full list of bounceback candidates for 2012, plus gain access to all of our daily MLB content, sign up for ESPN Insider.
Insider
Creator of ZiPS projection system
Founder of Baseball Think Factory
Offseason Buyer's Guide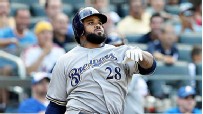 Prince Fielder headlines the 2011 free agent class, but who are the other players who could be changing teams this winter?
Rankings
Nov. 3:
Law: Top 50 free agents
|
Tracker
Nov. 4:
Bowden: Projected value rankings
Reaction
Jan. 25:
Bowden: How Detroit landed Prince
Jan. 24:
Law: Fielder helps now, not later
Jan. 14:
Bowden: Grading Yankees-M's deal
Jan. 13:
Law: Pineda-Montero deal a win-win
Jan. 11:
Law: Madson a steal for Reds
Jan. 6:
Law: Cubs win Cashner-Rizzo deal
Dec. 31:
Law: Quentin a mediocre fit in S.D
Buyer's Guide
Nov. 12:
Buyers Guide: Catchers
Nov. 11:
Buyers Guide: Relief Pitchers
Nov. 10:
Buyers Guide: Starting Pitchers
Nov. 9:
Buyers Guide: Third basemen
Nov. 8:
Buyers Guide: Outfielders
Nov. 7:
Buyers Guide: Middle infielders
Nov. 4:
Buyers Guide: First basemen/DH
Features
Feb. 9:
Perry: A case for the Nats
Feb. 7:
Szymborski: Ellsbury to fall off
Feb. 6:
Cameron: The cost of moving to third
Feb. 3:
Meyers: Poor drafts doom Cubs, Mets
Feb. 2:
Bowden: How to rebuild the Orioles
Feb. 1:
Goldstein: How good is Cespedes?
Jan. 30:
Szymborski: Projecting Angels, Tigers
History
•
Law: 2010 top 50 rankings
•
Law: 2009 top 50 rankings
•
Law: 2008 top 50 rankings
•
Law: 2007 top 50 rankings
•
Law: 2006 top 40 rankings

MOST SENT STORIES ON ESPN.COM