Commentary
Bern in Hall
The former Yankees center fielder is every bit deserving of a Cooperstown plaque
Updated:
December 21, 2011, 3:58 PM ET
By
Dan Szymborski
| Baseball Think Factory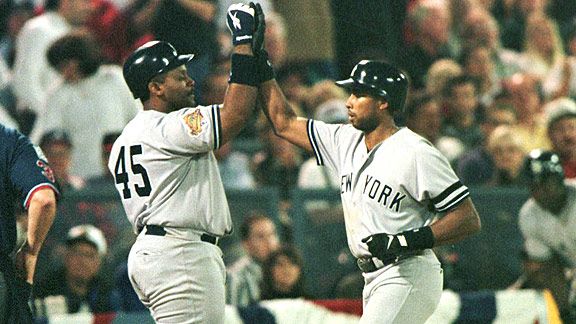 Getty ImagesFrom 1998 through 2000, when the Yankees won three straight titles, Williams hit .329/.417/.558.
In a couple of weeks, the Baseball Hall of Fame will announce its newest members (if any). As Jim Caple writes today, this year's class is not particularly strong, and there is a lot of talk that not a single member of it will ever be enshrined in Cooperstown. That would be a mistake. One of our generation's best center fielders, Bernie Williams, is a member of the 2012 group, and he is every bit deserving of a spot in the Hall.
Contrary to conventional wisdom, the advantage a player receives from playing for the New York Yankees, in Hall of Fame balloting, tends to be fairly insignificant. There are a lot of Yankees, especially from the first half of the century, in the Hall of Fame, but that's hardly surprising considering how many games those teams won. Playing in pinstripes didn't keep Willie Randolph (12th among second basemen in wins above replacement) or Graig Nettles (10th among third basemen in WAR) from getting tossed off the ballot in perfunctory fashion. Phil Rizzuto probably was a mistake by the veterans committee, but it has made strange inductions all over the place. Williams looks to be the latest star to get limited consideration by the Hall of Fame.
To see why Bernie Williams deserves Hall of Fame enshrinement, become an ESPN Insider.
Insider
Creator of ZiPS projection system
Founder of Baseball Think Factory
Offseason Buyer's Guide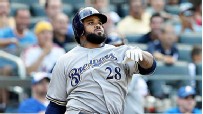 Prince Fielder headlines the 2011 free agent class, but who are the other players who could be changing teams this winter?
Rankings
Nov. 3:
Law: Top 50 free agents
|
Tracker
Nov. 4:
Bowden: Projected value rankings
Reaction
Jan. 25:
Bowden: How Detroit landed Prince
Jan. 24:
Law: Fielder helps now, not later
Jan. 14:
Bowden: Grading Yankees-M's deal
Jan. 13:
Law: Pineda-Montero deal a win-win
Jan. 11:
Law: Madson a steal for Reds
Jan. 6:
Law: Cubs win Cashner-Rizzo deal
Dec. 31:
Law: Quentin a mediocre fit in S.D
Buyer's Guide
Nov. 12:
Buyers Guide: Catchers
Nov. 11:
Buyers Guide: Relief Pitchers
Nov. 10:
Buyers Guide: Starting Pitchers
Nov. 9:
Buyers Guide: Third basemen
Nov. 8:
Buyers Guide: Outfielders
Nov. 7:
Buyers Guide: Middle infielders
Nov. 4:
Buyers Guide: First basemen/DH
Features
Feb. 9:
Perry: A case for the Nats
Feb. 7:
Szymborski: Ellsbury to fall off
Feb. 6:
Cameron: The cost of moving to third
Feb. 3:
Meyers: Poor drafts doom Cubs, Mets
Feb. 2:
Bowden: How to rebuild the Orioles
Feb. 1:
Goldstein: How good is Cespedes?
Jan. 30:
Szymborski: Projecting Angels, Tigers
History
•
Law: 2010 top 50 rankings
•
Law: 2009 top 50 rankings
•
Law: 2008 top 50 rankings
•
Law: 2007 top 50 rankings
•
Law: 2006 top 40 rankings

MOST SENT STORIES ON ESPN.COM