Commentary
The riskiest free agent
It's hard to imagine Albert Pujols' next deal won't be a problem in a few years
Updated:
November 21, 2011, 10:38 PM ET
By
Dayn Perry
| FanGraphs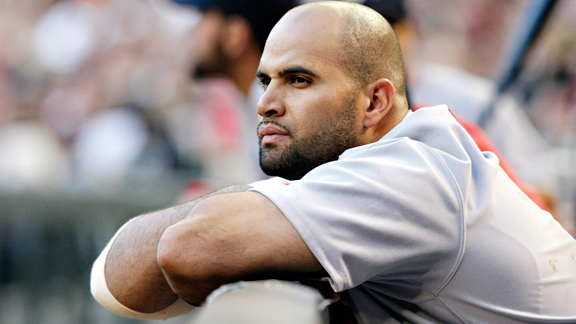 Rick Scuteri/US PresswireAlbert Pujols is already in decline, yet he will be paid for what he's done, not what he's going to do.
Without question, Albert Pujols is going to command the largest contract of the offseason. And while there will much rejoicing in the streets for fans of the team that signs him (or re-signs him, in the case of the St. Louis Cardinals), they should know that Pujols' next contract figures to be one of the riskiest in the annals of free agency.
Pujols, obviously, is a future first-ballot Hall of Famer and still one of the top hitters in all of baseball. Last season, his numbers slipped a bit, but he still managed to finish second in the NL with 37 home runs. As well, his wRC+ of 148 is the same as his mark in 2002, which reflects the fact that offense was down across all of baseball last season.
With all that said, the fact remains that Pujols is in decline. His wRC+ peaked in 2008 at 184 and then began a steady downward trend: 182 in 2009, 165 in 2010 and last season's 148. Given his age, none of this is especially surprising. Last season, Pujols suffered a precipitous decline in his batting average on balls in play (a career-low .277), which could be somewhat attributable to bad luck/random variation or could be the symptom of a slowing bat. He also experienced a spike in his ground-ball rate -- it jumped from 38.3 percent to 44.7 percent -- which is potentially a troubling sign.
It bears repeating that Pujols remains a top-tier hitter and probably will remain as much for the next handful of seasons. The rub is that the market will likely treat him as something more than that.
To see why Albert Pujols is the riskiest free agent in baseball, become an ESPN Insider.
Insider
Offseason Buyer's Guide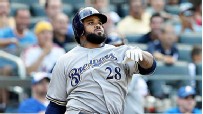 Prince Fielder headlines the 2011 free agent class, but who are the other players who could be changing teams this winter?
Rankings
Nov. 3:
Law: Top 50 free agents
|
Tracker
Nov. 4:
Bowden: Projected value rankings
Reaction
Jan. 25:
Bowden: How Detroit landed Prince
Jan. 24:
Law: Fielder helps now, not later
Jan. 14:
Bowden: Grading Yankees-M's deal
Jan. 13:
Law: Pineda-Montero deal a win-win
Jan. 11:
Law: Madson a steal for Reds
Jan. 6:
Law: Cubs win Cashner-Rizzo deal
Dec. 31:
Law: Quentin a mediocre fit in S.D
Buyer's Guide
Nov. 12:
Buyers Guide: Catchers
Nov. 11:
Buyers Guide: Relief Pitchers
Nov. 10:
Buyers Guide: Starting Pitchers
Nov. 9:
Buyers Guide: Third basemen
Nov. 8:
Buyers Guide: Outfielders
Nov. 7:
Buyers Guide: Middle infielders
Nov. 4:
Buyers Guide: First basemen/DH
Features
Feb. 9:
Perry: A case for the Nats
Feb. 7:
Szymborski: Ellsbury to fall off
Feb. 6:
Cameron: The cost of moving to third
Feb. 3:
Meyers: Poor drafts doom Cubs, Mets
Feb. 2:
Bowden: How to rebuild the Orioles
Feb. 1:
Goldstein: How good is Cespedes?
Jan. 30:
Szymborski: Projecting Angels, Tigers
History
•
Law: 2010 top 50 rankings
•
Law: 2009 top 50 rankings
•
Law: 2008 top 50 rankings
•
Law: 2007 top 50 rankings
•
Law: 2006 top 40 rankings

MOST SENT STORIES ON ESPN.COM