Commentary
Keith Law's top free agents, Nos. 31-50
The bargain bin could pay off with a few former closers who still have some stuff
Originally Published:
November 3, 2011
By
Keith Law
| ESPN Insider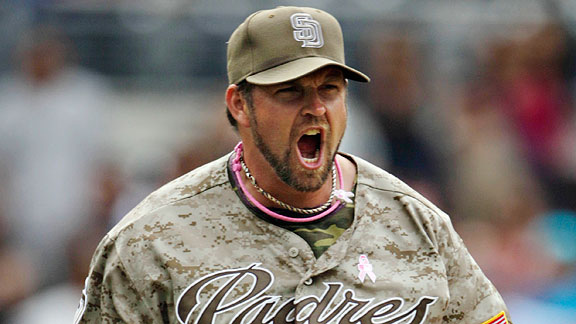 AP Photo/Lenny IgnelziHeath Bell is enticing, but will his flat fastball play outside of spacious Petco Park?
The third tier of the top 50 is where teams will look to both fill out a bullpen and try to catch lightning in a bottle with a cheap veteran bat. Some inexpensive options could include Joe Nathan and Rafael Furcal.
There also are a few intriguing names who spent last season in Japan. Most of them are unfamiliar, but one, Matt Murton, could be trying to break back into the majors after two seasons in NPB.
Law's complete top 50: 1-10

| 11-30

| 31-50

To read Law's take on free agents 31-50, you must be an ESPN Insider.
Insider
Offseason Buyer's Guide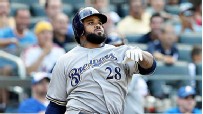 Prince Fielder headlines the 2011 free agent class, but who are the other players who could be changing teams this winter?
Rankings
Nov. 3:
Law: Top 50 free agents
|
Tracker
Nov. 4:
Bowden: Projected value rankings
Reaction
Jan. 25:
Bowden: How Detroit landed Prince
Jan. 24:
Law: Fielder helps now, not later
Jan. 14:
Bowden: Grading Yankees-M's deal
Jan. 13:
Law: Pineda-Montero deal a win-win
Jan. 11:
Law: Madson a steal for Reds
Jan. 6:
Law: Cubs win Cashner-Rizzo deal
Dec. 31:
Law: Quentin a mediocre fit in S.D
Buyer's Guide
Nov. 12:
Buyers Guide: Catchers
Nov. 11:
Buyers Guide: Relief Pitchers
Nov. 10:
Buyers Guide: Starting Pitchers
Nov. 9:
Buyers Guide: Third basemen
Nov. 8:
Buyers Guide: Outfielders
Nov. 7:
Buyers Guide: Middle infielders
Nov. 4:
Buyers Guide: First basemen/DH
Features
Feb. 9:
Perry: A case for the Nats
Feb. 7:
Szymborski: Ellsbury to fall off
Feb. 6:
Cameron: The cost of moving to third
Feb. 3:
Meyers: Poor drafts doom Cubs, Mets
Feb. 2:
Bowden: How to rebuild the Orioles
Feb. 1:
Goldstein: How good is Cespedes?
Jan. 30:
Szymborski: Projecting Angels, Tigers
History
•
Law: 2010 top 50 rankings
•
Law: 2009 top 50 rankings
•
Law: 2008 top 50 rankings
•
Law: 2007 top 50 rankings
•
Law: 2006 top 40 rankings

MOST SENT STORIES ON ESPN.COM