Commentary
Prince not an ideal fit for Comerica
Fielder's former park gave him some home runs that his new home will not
Updated:
January 26, 2012, 12:05 PM ET
By
Dan Szymborski
| Baseball Think Factory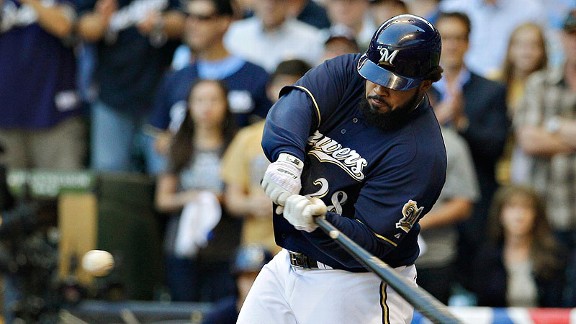 AP Photo/Matt SlocumMiller Park was a perfect fit for Fielder, while Comerica Park does not appear to be.
Prince Fielder's winter saga ended this week when the burly slugger agreed to a nine-year, $214 million contract with the Detroit Tigers. In doing so, Fielder cemented his spot in the middle of Detroit's lineup for the next decade, and agent Scott Boras cemented his reputation for being able to close big deals.
Stadiums are more of a factor in baseball than in any other major spot, by way of rules that allow some aspects of the field to have great variation in measurements. Over his six-plus seasons with the Milwaukee Brewers, Fielder played half his games in Miller Park, a comfortable spot for him as his homer rate at home for his career is 20 percent higher than it is in road games. Fielder is a powerful hitter and would be a slugger in any park, but just how suited is Prince to his new digs?
To see why Fielder is a bad fit for Comerica Park -- and get full access to Insider's MLB coverage -- become an Insider today.
Insider
Creator of ZiPS projection system
Founder of Baseball Think Factory
Offseason Buyer's Guide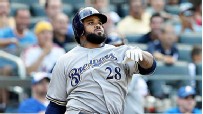 Prince Fielder headlines the 2011 free agent class, but who are the other players who could be changing teams this winter?
Rankings
Nov. 3:
Law: Top 50 free agents
|
Tracker
Nov. 4:
Bowden: Projected value rankings
Reaction
Jan. 25:
Bowden: How Detroit landed Prince
Jan. 24:
Law: Fielder helps now, not later
Jan. 14:
Bowden: Grading Yankees-M's deal
Jan. 13:
Law: Pineda-Montero deal a win-win
Jan. 11:
Law: Madson a steal for Reds
Jan. 6:
Law: Cubs win Cashner-Rizzo deal
Dec. 31:
Law: Quentin a mediocre fit in S.D
Buyer's Guide
Nov. 12:
Buyers Guide: Catchers
Nov. 11:
Buyers Guide: Relief Pitchers
Nov. 10:
Buyers Guide: Starting Pitchers
Nov. 9:
Buyers Guide: Third basemen
Nov. 8:
Buyers Guide: Outfielders
Nov. 7:
Buyers Guide: Middle infielders
Nov. 4:
Buyers Guide: First basemen/DH
Features
Feb. 9:
Perry: A case for the Nats
Feb. 7:
Szymborski: Ellsbury to fall off
Feb. 6:
Cameron: The cost of moving to third
Feb. 3:
Meyers: Poor drafts doom Cubs, Mets
Feb. 2:
Bowden: How to rebuild the Orioles
Feb. 1:
Goldstein: How good is Cespedes?
Jan. 30:
Szymborski: Projecting Angels, Tigers
History
•
Law: 2010 top 50 rankings
•
Law: 2009 top 50 rankings
•
Law: 2008 top 50 rankings
•
Law: 2007 top 50 rankings
•
Law: 2006 top 40 rankings

MOST SENT STORIES ON ESPN.COM