Commentary
Fielder's effect on the AL Central
What once was a three-team race is now a divisionwide rebuild
Updated:
January 26, 2012, 12:25 PM ET
By
Dayn Perry
| FanGraphs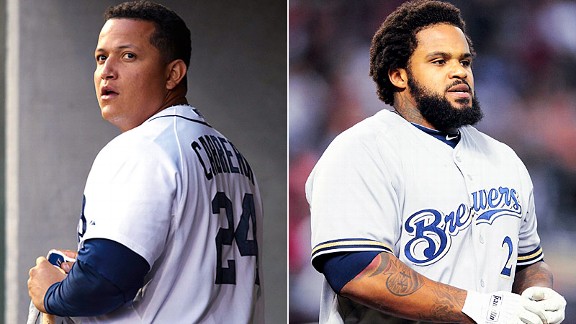 US PresswireMiguel Cabrera and Prince Fielder will be a two-man wrecking crew in the middle of Detroit's lineup.
When this week began, the American League Central was an eminently winnable sort of division. Sure, the Detroit Tigers won 95 games last year, but their Pythagorean record was a more modest 89-73, and in 2012 they'll be without one of their best hitters in Victor Martinez. That meant an opportunity for an up-and-coming squad like the Cleveland Indians or Kansas City Royals.
But then the Tigers, despite solemn promises that they wouldn't spend the money, lavished upon Prince Fielder a nine-year, $214 million pact. And now you can write in Detroit's name at the top of the standings. Use ink if you like.
Sure, the idea of having Fielder, Miguel Cabrera and Delmon Young wield leather at the same time for the same team is enough to haunt one's dreams, but the powerhouse offense plus a strong rotation fronted by AL MVP and Cy Young winner Justin Verlander is more than enough to overcome those pratfalls in the field. The Tigers, barring a series of minor miracles, will win the division. And that changes things for everyone else in the AL Central.
To get complete access to all of ESPN Insider's daily MLB content -- including Buster Olney's blog and Keith Law's prospects and trade analysis -- sign up today.
Insider
Offseason Buyer's Guide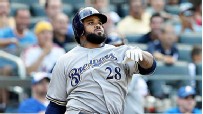 Prince Fielder headlines the 2011 free agent class, but who are the other players who could be changing teams this winter?
Rankings
Nov. 3:
Law: Top 50 free agents
|
Tracker
Nov. 4:
Bowden: Projected value rankings
Reaction
Jan. 25:
Bowden: How Detroit landed Prince
Jan. 24:
Law: Fielder helps now, not later
Jan. 14:
Bowden: Grading Yankees-M's deal
Jan. 13:
Law: Pineda-Montero deal a win-win
Jan. 11:
Law: Madson a steal for Reds
Jan. 6:
Law: Cubs win Cashner-Rizzo deal
Dec. 31:
Law: Quentin a mediocre fit in S.D
Buyer's Guide
Nov. 12:
Buyers Guide: Catchers
Nov. 11:
Buyers Guide: Relief Pitchers
Nov. 10:
Buyers Guide: Starting Pitchers
Nov. 9:
Buyers Guide: Third basemen
Nov. 8:
Buyers Guide: Outfielders
Nov. 7:
Buyers Guide: Middle infielders
Nov. 4:
Buyers Guide: First basemen/DH
Features
Feb. 9:
Perry: A case for the Nats
Feb. 7:
Szymborski: Ellsbury to fall off
Feb. 6:
Cameron: The cost of moving to third
Feb. 3:
Meyers: Poor drafts doom Cubs, Mets
Feb. 2:
Bowden: How to rebuild the Orioles
Feb. 1:
Goldstein: How good is Cespedes?
Jan. 30:
Szymborski: Projecting Angels, Tigers
History
•
Law: 2010 top 50 rankings
•
Law: 2009 top 50 rankings
•
Law: 2008 top 50 rankings
•
Law: 2007 top 50 rankings
•
Law: 2006 top 40 rankings

MOST SENT STORIES ON ESPN.COM