Commentary
Yankees' new place in AL East race
Additions of Pineda, Kuroda improve New York's chances to win division title
Updated:
January 14, 2012, 12:57 PM ET
By
Dan Szymborski
| Baseball Think Factory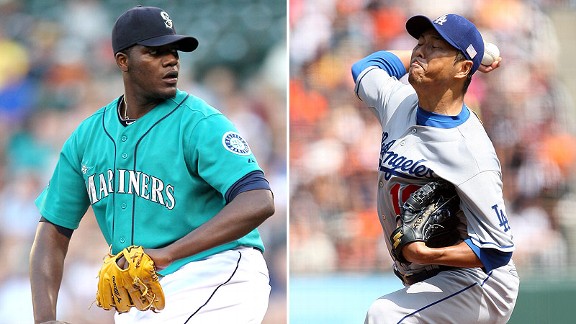 Getty ImagesMichael Pineda and Hiroki Kuroda tilt the AL East arms race in favor of the Yankees.
After a pretty quiet offseason, the New York Yankees finally made their move Friday, signing former Los Angeles Dodgers pitcher Hiroki Kuroda and picking up Michael Pineda from the Seattle Mariners for Jesus Montero.
Trading Montero is a tough thing to do, but the Yankees pick up another young, cost-controlled player with star potential. More importantly, the Yankees, in what appears to be a very competitive three-team race in the AL East between New York, the Boston Red Sox and Tampa Bay Rays, address what is a crucial team need.
To read more on how the Yankees' moves on Friday night will alter the AL East race, sign up for Insider today.
Insider
Creator of ZiPS projection system
Founder of Baseball Think Factory
Offseason Buyer's Guide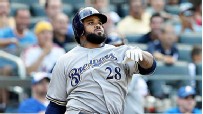 Prince Fielder headlines the 2011 free agent class, but who are the other players who could be changing teams this winter?
Rankings
Nov. 3:
Law: Top 50 free agents
|
Tracker
Nov. 4:
Bowden: Projected value rankings
Reaction
Jan. 25:
Bowden: How Detroit landed Prince
Jan. 24:
Law: Fielder helps now, not later
Jan. 14:
Bowden: Grading Yankees-M's deal
Jan. 13:
Law: Pineda-Montero deal a win-win
Jan. 11:
Law: Madson a steal for Reds
Jan. 6:
Law: Cubs win Cashner-Rizzo deal
Dec. 31:
Law: Quentin a mediocre fit in S.D
Buyer's Guide
Nov. 12:
Buyers Guide: Catchers
Nov. 11:
Buyers Guide: Relief Pitchers
Nov. 10:
Buyers Guide: Starting Pitchers
Nov. 9:
Buyers Guide: Third basemen
Nov. 8:
Buyers Guide: Outfielders
Nov. 7:
Buyers Guide: Middle infielders
Nov. 4:
Buyers Guide: First basemen/DH
Features
Feb. 9:
Perry: A case for the Nats
Feb. 7:
Szymborski: Ellsbury to fall off
Feb. 6:
Cameron: The cost of moving to third
Feb. 3:
Meyers: Poor drafts doom Cubs, Mets
Feb. 2:
Bowden: How to rebuild the Orioles
Feb. 1:
Goldstein: How good is Cespedes?
Jan. 30:
Szymborski: Projecting Angels, Tigers
History
•
Law: 2010 top 50 rankings
•
Law: 2009 top 50 rankings
•
Law: 2008 top 50 rankings
•
Law: 2007 top 50 rankings
•
Law: 2006 top 40 rankings

MOST SENT STORIES ON ESPN.COM