Commentary
The mystery of the "4A" hitter
Nelson Cruz used to carry the label, but he was one of the few who was able to shed it
Updated:
January 11, 2012, 3:00 PM ET
By
Kevin Goldstein
| Baseball Prospectus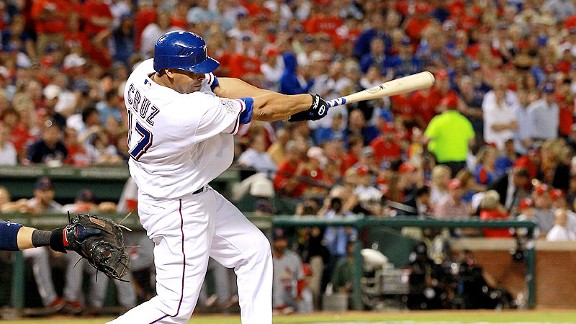 Ronald Martinez/Getty ImagesNelson Cruz was a fringe player before he became a World Series star in Texas.
Just days before acquiring first base prospect Anthony Rizzo from the San Diego Padres, Chicago Cubs general manager Theo Epstein appeared on Chicago radio and restated his support for Bryan LaHair.
"Bryan LaHair is our first baseman," Epstein said. "I don't believe in the concept of 4A players. The guy can hit."
The "4A hitter" is as old as the minor leagues themselves; it's the idea that some players are just too good for Triple-A but not good enough for the majors. For every guy who figures things out late like Nelson Cruz, or even far less than star-level players like Jorge Cantu, there are plenty of Triple-A sluggers like Kila Ka'aihue, Brad Eldred, or going back more to Calvin Pickering and Sam Horn, who put up crazy numbers but never had big league careers.
Are they 4A hitters? Does such a thing even exist? Are 4A hitters simply players who never got the right shot or got cold at the wrong time and never received the opportunity to un-bury themselves? Or are there some players who simply can't handle the job? I talked to several people in the industry to get their answers.
While not everyone even agrees on the existence of such players, there were three main ways a player can earn that label:
He has to really hit
One National League executive doesn't really believe in the concept of the 4A hitter. "I don't think it's that 4A-type guys can't hit major league pitching so much as it's 4A-type guys have no value besides their bat," he explains. "If you are a bad first baseman, or left fielder, or designated hitter, just being an average big league hitter doesn't really cut it, so you better hit the moment you get an opportunity or the industry moves on to someone else."
To read the complete story from Kevin Goldstein, plus all of our daily MLB content, sign up for ESPN Insider.
Insider
Offseason Buyer's Guide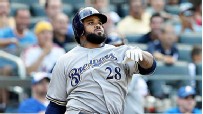 Prince Fielder headlines the 2011 free agent class, but who are the other players who could be changing teams this winter?
Rankings
Nov. 3:
Law: Top 50 free agents
|
Tracker
Nov. 4:
Bowden: Projected value rankings
Reaction
Jan. 25:
Bowden: How Detroit landed Prince
Jan. 24:
Law: Fielder helps now, not later
Jan. 14:
Bowden: Grading Yankees-M's deal
Jan. 13:
Law: Pineda-Montero deal a win-win
Jan. 11:
Law: Madson a steal for Reds
Jan. 6:
Law: Cubs win Cashner-Rizzo deal
Dec. 31:
Law: Quentin a mediocre fit in S.D
Buyer's Guide
Nov. 12:
Buyers Guide: Catchers
Nov. 11:
Buyers Guide: Relief Pitchers
Nov. 10:
Buyers Guide: Starting Pitchers
Nov. 9:
Buyers Guide: Third basemen
Nov. 8:
Buyers Guide: Outfielders
Nov. 7:
Buyers Guide: Middle infielders
Nov. 4:
Buyers Guide: First basemen/DH
Features
Feb. 9:
Perry: A case for the Nats
Feb. 7:
Szymborski: Ellsbury to fall off
Feb. 6:
Cameron: The cost of moving to third
Feb. 3:
Meyers: Poor drafts doom Cubs, Mets
Feb. 2:
Bowden: How to rebuild the Orioles
Feb. 1:
Goldstein: How good is Cespedes?
Jan. 30:
Szymborski: Projecting Angels, Tigers
History
•
Law: 2010 top 50 rankings
•
Law: 2009 top 50 rankings
•
Law: 2008 top 50 rankings
•
Law: 2007 top 50 rankings
•
Law: 2006 top 40 rankings

MOST SENT STORIES ON ESPN.COM