Commentary
Why Trammell, Larkin belong in HOF
A new metric -- wins above All-Star level -- helps us evaluate this year's candidates
Updated:
January 9, 2012, 8:38 AM ET
By
Peter Keating
| ESPN The Magazine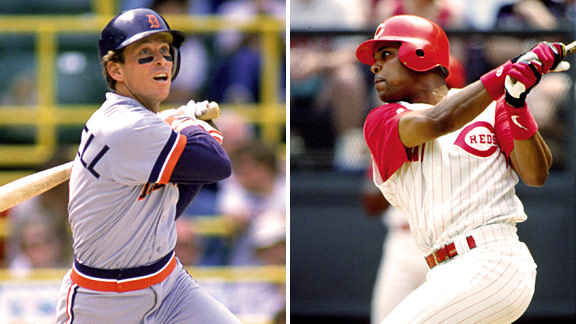 Getty Images, US PresswireOur new metric explains why Alan Trammell and Barry Larkin belong in the HOF.
Who should go into the National Baseball Hall of Fame, according to the numbers?
To answer that question, we should start by acknowledging that when it comes to the intelligent use of analytics, the Hall has had a pretty good run over the past year. In 2011, the Baseball Writers' Association of America elected Roberto Alomar, a statistical no-brainer, and Bert Blyleven, whose deserving candidacy was put over the top by sabermetric advocate Rich Lederer, to the Hall. Then the Veterans Committee enshrined Ron Santo, another player long championed by statheads; the only downside was that Santo had died the previous December.
Indeed, Hall of Fame discussions are generally getting smarter, for two reasons. For one thing, fans, analysts and media types are more willing to look beyond impressive raw statistics, because the offensive explosion of the 1990s and 2000s simply demands it. From the dawn of time through 1993, there were just 87 times when an MLB player hit .300 or better with at least 30 home runs and 100 or more RBIs -- what we can call Superficially SuperStar Seasons (SSSS). So you could argue that Chuck Klein or Jim Rice or Duke Snider or Hack Wilson, each of whom had four SSSS, belonged in the Hall because he had done something noteworthy, even if you couldn't prove it was valuable.
But just since 1994, there have been 81 more SSSS. Albert Belle, Jason Giambi, Magglio Ordonez and Larry Walker each have four now, too; Jeff Bagwell, Miguel Cabrera, Juan Gonzalez, Todd Helton and Chipper Jones have five apiece, as many as Frank Robinson. Do you want to put them all in the Hall, along with Gary Sheffield, Mike Piazza, Frank Thomas, Alex Rodriguez, Vladimir Guerrero, Barry Bonds, Manny Ramirez and Albert Pujols, who all have more than five? These days, even dataphobes realize that stats require context.
And just as the world was looking to make sense of numbers that had gone crazy, wins above replacement came along. WAR is an uber-metric that combines all a player's contributions -- at bat, on the bases and in the field -- into one estimate of how many wins he generates and compares it to replacement level, the point at which a team can replace a roster spot at minimal cost. WAR is easy to use, and various versions are available on Fangraphs and Baseball-Reference.com. Over the past few years, WAR has become hugely popular on sabermetric sites and forums, and is steadily creeping into Hall of Fame discussions.
The world is a better place when it uses WAR to assess MVP candidates or trades. But to settle Hall of Fame arguments? Not so fast. Adding up a player's cumulative WAR doesn't truly capture how most of us track his Hall of Fame chances, because it credits him for above-replacement but below-star-level play. And that threshold is far too low. Think about it this way: If David Wright has a 2012 season like his 2011 (.254 BA, 14 HRs, 1.9 WAR), he will help the Mets on the field. But he'll need to do significantly better than that to keep boosting his chances for the Hall of Fame.
To read Peter's full article, become an ESPN Insider.
Insider
Peter Keating is a senior writer at ESPN The Magazine, where he covers investigative and statistical subjects. He started writing "The Biz," a column looking at sports business from the fan's point of view, in 1999. He also coordinates the Magazine's annual "Ultimate Standings" project, which ranks all pro franchises according to how much they give back to fans. His work on concussions in football has earned awards from the Deadline Club, the New York Press Club and the Center for the Study of Sport in Society.
Offseason Buyer's Guide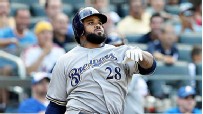 Prince Fielder headlines the 2011 free agent class, but who are the other players who could be changing teams this winter?
Rankings
Nov. 3:
Law: Top 50 free agents
|
Tracker
Nov. 4:
Bowden: Projected value rankings
Reaction
Jan. 25:
Bowden: How Detroit landed Prince
Jan. 24:
Law: Fielder helps now, not later
Jan. 14:
Bowden: Grading Yankees-M's deal
Jan. 13:
Law: Pineda-Montero deal a win-win
Jan. 11:
Law: Madson a steal for Reds
Jan. 6:
Law: Cubs win Cashner-Rizzo deal
Dec. 31:
Law: Quentin a mediocre fit in S.D
Buyer's Guide
Nov. 12:
Buyers Guide: Catchers
Nov. 11:
Buyers Guide: Relief Pitchers
Nov. 10:
Buyers Guide: Starting Pitchers
Nov. 9:
Buyers Guide: Third basemen
Nov. 8:
Buyers Guide: Outfielders
Nov. 7:
Buyers Guide: Middle infielders
Nov. 4:
Buyers Guide: First basemen/DH
Features
Feb. 9:
Perry: A case for the Nats
Feb. 7:
Szymborski: Ellsbury to fall off
Feb. 6:
Cameron: The cost of moving to third
Feb. 3:
Meyers: Poor drafts doom Cubs, Mets
Feb. 2:
Bowden: How to rebuild the Orioles
Feb. 1:
Goldstein: How good is Cespedes?
Jan. 30:
Szymborski: Projecting Angels, Tigers
History
•
Law: 2010 top 50 rankings
•
Law: 2009 top 50 rankings
•
Law: 2008 top 50 rankings
•
Law: 2007 top 50 rankings
•
Law: 2006 top 40 rankings

MOST SENT STORIES ON ESPN.COM