Commentary
A return to form in 2012
Signs point to these three All-Stars restoring their luster in 2012
Originally Published:
January 6, 2011
By
Dave Cameron
| FanGraphs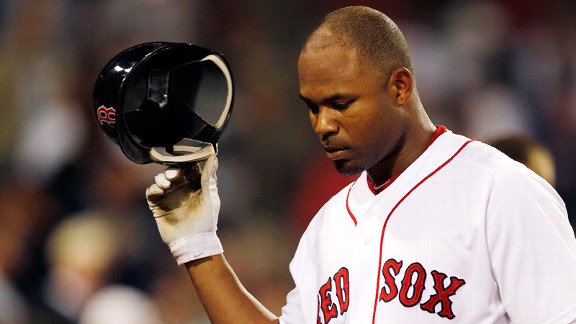 AP Photo/Charles Krupa2011 was frustrating for Carl Crawford, but he should bounce back in 2012.
Last week, we looked at a group of key players whose expected regression in 2012 could pose problems for their team's chances of contention. However, there's a flip side to that same coin. Today, we'll look at a few players whose performance could see a nice rebound, improving their team's odds even if they don't make a big splash this winter.
The most obvious candidate for this kind of comeback is Crawford. The Red Sox pricey new outfielder set career lows in nearly every meaningful category last year, and his overall performance was worth just 0.2 WAR, as his numbers were right in line with what you'd expect from a random Triple-A player earning the league minimum.

Crawford
There's almost no way a player with his track record -- Crawford averaged 5.4 WAR per season over the three years prior -- could be that bad again.
To see why Mark Teixiera, Carl Crawford and Ubaldo Jimenez could bounce back, become an ESPN Insider.
Insider
Managing editor of FanGraphs
Founder of U.S.S. Mariner
Also contributes to Wall Street Journal
Offseason Buyer's Guide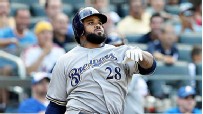 Prince Fielder headlines the 2011 free agent class, but who are the other players who could be changing teams this winter?
Rankings
Nov. 3:
Law: Top 50 free agents
|
Tracker
Nov. 4:
Bowden: Projected value rankings
Reaction
Jan. 25:
Bowden: How Detroit landed Prince
Jan. 24:
Law: Fielder helps now, not later
Jan. 14:
Bowden: Grading Yankees-M's deal
Jan. 13:
Law: Pineda-Montero deal a win-win
Jan. 11:
Law: Madson a steal for Reds
Jan. 6:
Law: Cubs win Cashner-Rizzo deal
Dec. 31:
Law: Quentin a mediocre fit in S.D
Buyer's Guide
Nov. 12:
Buyers Guide: Catchers
Nov. 11:
Buyers Guide: Relief Pitchers
Nov. 10:
Buyers Guide: Starting Pitchers
Nov. 9:
Buyers Guide: Third basemen
Nov. 8:
Buyers Guide: Outfielders
Nov. 7:
Buyers Guide: Middle infielders
Nov. 4:
Buyers Guide: First basemen/DH
Features
Feb. 9:
Perry: A case for the Nats
Feb. 7:
Szymborski: Ellsbury to fall off
Feb. 6:
Cameron: The cost of moving to third
Feb. 3:
Meyers: Poor drafts doom Cubs, Mets
Feb. 2:
Bowden: How to rebuild the Orioles
Feb. 1:
Goldstein: How good is Cespedes?
Jan. 30:
Szymborski: Projecting Angels, Tigers
History
•
Law: 2010 top 50 rankings
•
Law: 2009 top 50 rankings
•
Law: 2008 top 50 rankings
•
Law: 2007 top 50 rankings
•
Law: 2006 top 40 rankings

MOST SENT STORIES ON ESPN.COM