Commentary
New parks, new numbers
Thanks to new addresses, these players will put up much better stats in 2012
Updated:
December 23, 2011, 1:15 PM ET
By
Dave Cameron
| FanGraphs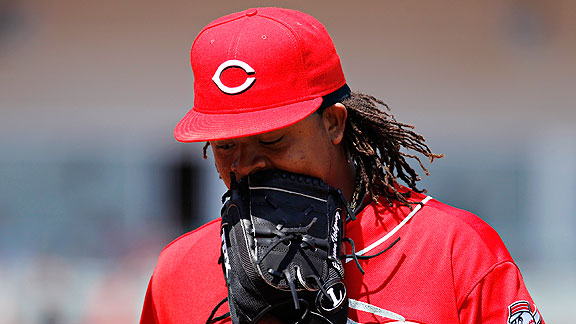 Joe Robbins/Getty ImagesVolquez has a career 4.38 ERA at Great American Ballpark and a 2.33 mark at Petco Park.
For Edinson Volquez, Jason Kubel and Travis Wood, Christmas came a few days early this year. Although each struggled through the 2011 season, all three have received a fresh start with a new organization, and perhaps more importantly, all have traded in home ballparks that were terrible fits for their individual skills in exchange for environments that should prove far more friendly.
Perhaps no one will make a larger upgrade in surroundings this winter than Volquez, who is moving from a bandbox in Cincinnati to the pitcher's paradise that is San Diego. In fact, for a pitcher whose primary problem last year was allowing home runs, it's hard to find a better upgrade than moving from Great American Ballpark to Petco Park. For comparison, 209 home runs were hit in Cincinnati last year -- third-most in baseball -- while just 100 were hit in San Diego, the second-lowest total of any park.
To see why Colby Lewis could really benefit from a change of scenery, become an ESPN Insider.
Insider
Managing editor of FanGraphs
Founder of U.S.S. Mariner
Also contributes to Wall Street Journal
Offseason Buyer's Guide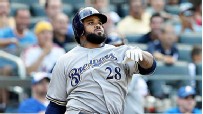 Prince Fielder headlines the 2011 free agent class, but who are the other players who could be changing teams this winter?
Rankings
Nov. 3:
Law: Top 50 free agents
|
Tracker
Nov. 4:
Bowden: Projected value rankings
Reaction
Jan. 25:
Bowden: How Detroit landed Prince
Jan. 24:
Law: Fielder helps now, not later
Jan. 14:
Bowden: Grading Yankees-M's deal
Jan. 13:
Law: Pineda-Montero deal a win-win
Jan. 11:
Law: Madson a steal for Reds
Jan. 6:
Law: Cubs win Cashner-Rizzo deal
Dec. 31:
Law: Quentin a mediocre fit in S.D
Buyer's Guide
Nov. 12:
Buyers Guide: Catchers
Nov. 11:
Buyers Guide: Relief Pitchers
Nov. 10:
Buyers Guide: Starting Pitchers
Nov. 9:
Buyers Guide: Third basemen
Nov. 8:
Buyers Guide: Outfielders
Nov. 7:
Buyers Guide: Middle infielders
Nov. 4:
Buyers Guide: First basemen/DH
Features
Feb. 9:
Perry: A case for the Nats
Feb. 7:
Szymborski: Ellsbury to fall off
Feb. 6:
Cameron: The cost of moving to third
Feb. 3:
Meyers: Poor drafts doom Cubs, Mets
Feb. 2:
Bowden: How to rebuild the Orioles
Feb. 1:
Goldstein: How good is Cespedes?
Jan. 30:
Szymborski: Projecting Angels, Tigers
History
•
Law: 2010 top 50 rankings
•
Law: 2009 top 50 rankings
•
Law: 2008 top 50 rankings
•
Law: 2007 top 50 rankings
•
Law: 2006 top 40 rankings

MOST SENT STORIES ON ESPN.COM