Commentary
What if the Marlins sign Pujols?
Miami already has Jose Reyes and Heath Bell, and there could be one more fish to come
Updated:
December 6, 2011, 12:51 PM ET
By
Dan Szymborski
| Baseball Think Factory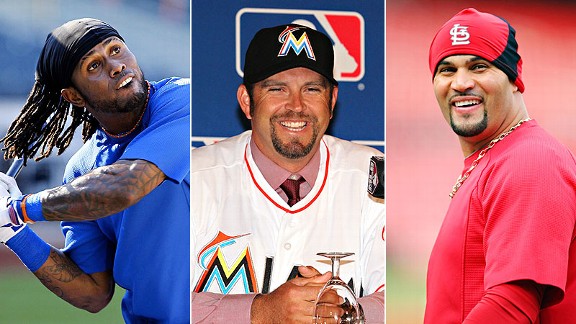 US PresswireIf you add Albert Pujols to Jose Reyes and Heath Bell, how many games would the Marlins win?
Fifteen years ago, the Florida Marlins made the headlines by making the biggest splash in team history, signing Bobby Bonilla, Moises Alou and Alex Fernandez in an attempt to seriously challenge the Atlanta Braves on the National League East. While the team didn't win the division, it did win the wild card and brought home the bigger prize, a World Series title. Despite the ugliness of owner Wayne Huizenga's fire sale following the season, the 1997 Marlins remain a textbook example of what can happen when teams make a big push at just the right time.
The now-Miami Marlins hope to repeat that feat in 2012, signing Jose Reyes, the best shortstop available this offseason, and closer Heath Bell, who is fresh off saving 132 games over the last three seasons. All indications are that the team isn't done yet either, with rumors swirling that the team still hopes to make a serious run at Albert Pujols. After watching the team cut payroll to the bone for a decade, it appears that the formerly penny-pinching team owner, Jeff Loria, is willing to use the new stadium money for more than just horribly gaudy home run displays.
With Reyes in the fold, likely rebound seasons from Hanley Ramirez and Chris Coghlan, and no major losses from last year's lineup, the Marlins figure to do better than 11th in the league in run scoring. Add in the return of most of the contributors in the bullpen -- the departed Leo Nunez Juan Oviedo (4.06 ERA) was actually mediocre -- and the hope that Josh Johnson can start more than nine games in 2012, and the Marlins start to look like a team that can bounce back nicely from their 72-90, last place season.
To see how many games the Marlins project to win with Reyes and Bell, and how how many they would project to win with Pujols, become an ESPN Insider.
Insider
Creator of ZiPS projection system
Founder of Baseball Think Factory
Offseason Buyer's Guide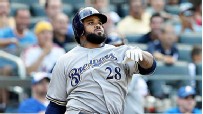 Prince Fielder headlines the 2011 free agent class, but who are the other players who could be changing teams this winter?
Rankings
Nov. 3:
Law: Top 50 free agents
|
Tracker
Nov. 4:
Bowden: Projected value rankings
Reaction
Jan. 25:
Bowden: How Detroit landed Prince
Jan. 24:
Law: Fielder helps now, not later
Jan. 14:
Bowden: Grading Yankees-M's deal
Jan. 13:
Law: Pineda-Montero deal a win-win
Jan. 11:
Law: Madson a steal for Reds
Jan. 6:
Law: Cubs win Cashner-Rizzo deal
Dec. 31:
Law: Quentin a mediocre fit in S.D
Buyer's Guide
Nov. 12:
Buyers Guide: Catchers
Nov. 11:
Buyers Guide: Relief Pitchers
Nov. 10:
Buyers Guide: Starting Pitchers
Nov. 9:
Buyers Guide: Third basemen
Nov. 8:
Buyers Guide: Outfielders
Nov. 7:
Buyers Guide: Middle infielders
Nov. 4:
Buyers Guide: First basemen/DH
Features
Feb. 9:
Perry: A case for the Nats
Feb. 7:
Szymborski: Ellsbury to fall off
Feb. 6:
Cameron: The cost of moving to third
Feb. 3:
Meyers: Poor drafts doom Cubs, Mets
Feb. 2:
Bowden: How to rebuild the Orioles
Feb. 1:
Goldstein: How good is Cespedes?
Jan. 30:
Szymborski: Projecting Angels, Tigers
History
•
Law: 2010 top 50 rankings
•
Law: 2009 top 50 rankings
•
Law: 2008 top 50 rankings
•
Law: 2007 top 50 rankings
•
Law: 2006 top 40 rankings

MOST SENT STORIES ON ESPN.COM