Commentary
Young players to buy low
Shaky performance has caused these players to fall, but a high reward remains
Updated:
December 5, 2011, 1:11 PM ET
By
Kevin Goldstein
| Baseball Prospectus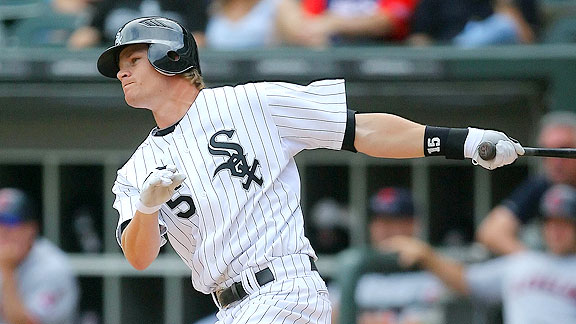 Dennis Wierzbicki/US PresswireGordon Beckham hasn't taken off with the White Sox, but he could in another locale.
DALLAS -- As Buster Olney recently wrote, this year's winter meetings could see a flurry of trades, as plenty of teams seem to be more focused on bargain hunting than playing with the big boys in what they see as an overpriced, weak free-agent class.
Part of bargain hunting involves buying low and identifying those players who might benefit from a change of scenery.
Here are 10 players -- some prospects, some early in their big league careers -- who just might be the kind of player who sees his career bolstered by a new uniform:
---

The eighth overall pick in the 2008 draft, Beckham was in the big leagues for good after just 59 minor league games. But all the promise he showed as an amateur and as a rookie seems like a distant memory as -- after sliding a bit in 2010 -- 2011 was a disaster that saw him stumble to the finish with an unacceptable batting line of .230/.296/.337.
To read the full article, as well as complete MLB hot stove coverage, sign up for ESPN Insider.
Insider
Offseason Buyer's Guide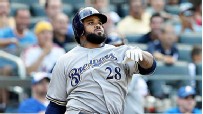 Prince Fielder headlines the 2011 free agent class, but who are the other players who could be changing teams this winter?
Rankings
Nov. 3:
Law: Top 50 free agents
|
Tracker
Nov. 4:
Bowden: Projected value rankings
Reaction
Jan. 25:
Bowden: How Detroit landed Prince
Jan. 24:
Law: Fielder helps now, not later
Jan. 14:
Bowden: Grading Yankees-M's deal
Jan. 13:
Law: Pineda-Montero deal a win-win
Jan. 11:
Law: Madson a steal for Reds
Jan. 6:
Law: Cubs win Cashner-Rizzo deal
Dec. 31:
Law: Quentin a mediocre fit in S.D
Buyer's Guide
Nov. 12:
Buyers Guide: Catchers
Nov. 11:
Buyers Guide: Relief Pitchers
Nov. 10:
Buyers Guide: Starting Pitchers
Nov. 9:
Buyers Guide: Third basemen
Nov. 8:
Buyers Guide: Outfielders
Nov. 7:
Buyers Guide: Middle infielders
Nov. 4:
Buyers Guide: First basemen/DH
Features
Feb. 9:
Perry: A case for the Nats
Feb. 7:
Szymborski: Ellsbury to fall off
Feb. 6:
Cameron: The cost of moving to third
Feb. 3:
Meyers: Poor drafts doom Cubs, Mets
Feb. 2:
Bowden: How to rebuild the Orioles
Feb. 1:
Goldstein: How good is Cespedes?
Jan. 30:
Szymborski: Projecting Angels, Tigers
History
•
Law: 2010 top 50 rankings
•
Law: 2009 top 50 rankings
•
Law: 2008 top 50 rankings
•
Law: 2007 top 50 rankings
•
Law: 2006 top 40 rankings

MOST SENT STORIES ON ESPN.COM